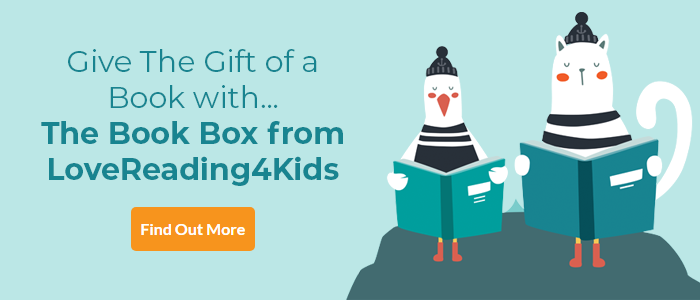 The Outlaws Scarlett and Browne Review
Enigmatic outlaws navigate a perilous quest across apocalyptic England
Shortlisted for the Books for Older Readers category, Children's Book Awards 2022 | Shortlisted for the UKLA Book Award 2022 ages 11-14 | April 2021 Book of the Month
Bravo to Jonathan Stroud! With its cast of charismatic characters and extraordinary world-building (think broken Britain with Wild West vibes), The Outlaws Scarlett and Browne is an audacious firecracker. And, in even better news for fans of funny, inventive adventure fiction, this is but the beginning of what's set to be an extraordinary series.
"Britain was a land of ruin…the country was maimed and broken - but full of strange fecundity and strength". It's also brimming with the likes of bears, wolves, flesh-eating spear-birds and gruesome cannibal creatures, all of which whip-smart, cuss-uttering Scarlett takes into her swaggering stride. She makes an unforgettable impression from the off: "A slight slim figure in a battered brown coat, weighed down with…all the paraphernalia of a girl who walked the Wilds." After killing four grown men who'd tried to rob her, Scarlett struts into a bank and proceeds to hold it up (turns out she needs money to repay a debt).
On fleeing the scene, Scarlett finds a crashed bus, all its passengers dead but for a lone boy hiding in the toilet. Enter Albert Browne, "awkward, skinny and wide-mouthed, like a frightened skeleton", and seemingly a piece of powdery chalk to Scarlett's pungent cheese. Her scathing sarcasm (and Albert's obliviousness to it) provides many a laugh: "You just holler if I get in your way," she seethes as he admires a seed pod while she sets about making a fire, cooking a bird and establishing a camp for them, and all while they're being pursued. But, for all his unworldliness, Albert turns out to have hidden talents. Sensing he might be of use to her after all, Scarlett agrees to help him accomplish his own mission. Albert wants to reach the Free Isles, remnants of London that "don't have any restrictions on who you are or what you can do. They welcome people who are...different", unlike the dictatorial High Council of the Faith Houses, which is "desperate to keep the old ways going", and "on the watch for any kind of deviation." Trouble is, as their respective pursuers close in, time and space is running out for our unforgettable outlaws.
What a story, what characters, and what a wait it will be until the second instalment. I defy any reader not to fall for Scarlett and Albert, and to become gasp-out-loud, laugh-out-loud invested in their quest.
Other Info
Chosen by our Guest Editor April 2021, Geraldine McCaughrean; The heroes of The Outlaws Scarlett & Browne by Jonathan Stroud don't have an easy time of it. Dangers and horrors pelt them like hail. There's barely a let-up in the relentless terrors of a post-apocalytic England. Monstrous creatures, and even more monstrous humans, dog every move of gun-toting Scarlett and the weird boy she has to keep rescuing. He's an annoying pest who's slowing her down. Or is he? The more she – and we – learn of Albert, the more remarkable he proves to be...
He's a splendid creation. Special powers can often take the humanity out of character: well, they're impervious to danger, aren't they? But Albert is both vulnerable and afraid. It's a tale of opposites, jostling along until they are both altered by their journey.
It's a brilliant representation of English towns, countryside and people all radically altered by the ferocious threats to their safety that have plagued them for years.
Scary, violent and gruesome in parts, this is a story which doesn't relent for a moment, so you'll need to hang on tight – and also hope that our real-life Future looks nothing like this one when it arrives.
--------------------------------------------
A review from our LoveReading4Schools expert, Tricia Adams;
First volume in a humourous, adventurous series from the powerhouse that is Jonathan Stroud.
Britain has become a fragmented kingdom – in fact made up of seven kingdoms – where outlaws like Scarlett McCain survive by robbing banks and living by her wits! Life is hard for Scarlett as wakes beside a dead man who had tried to rob her the night before as she looks down on the fortified town of Cheltenham. As she waits for the town to open its gates to allow her in a wolf watches her – than sets off to investigate the dead outlaws…
Life would probably have continued like this for Scarlett except that she rather unexpectedly came upon Albert Browne in a wrecked bus – appearing somewhat traumatised and very disorientated. Albert has a rather strange and mysterious background – and it takes some considerable time for the two to become a partnership – of two misfits in a broken society.
This novel contains a fascinating world built by Stroud, where society – such as it is – is expected to conform, but our outlaws have other, bolder ideas. The multi-layered adventure, laced with humour, is led by our pair of anti-heroes on an odyssey - you won't be able to put the book down. There is something for everyone here in this amalgamation of monsters, gunfights, and strange governmental institutions.
A roller-coaster of an adventure novel – I can't wait for volume two!

We've got some great stuff related to this book in our KidsZone.
Head over there and check it out now.
The Outlaws Scarlett and Browne Synopsis
Set in a broken, future England, where gunfights and monsters collide, this is the exciting first title in a phenomenal fantasy teen series by the bestselling children's novelist.
England has been radically changed by a series of catastrophes - large cities have disappeared and London has been replaced by a lagoon. The surviving population exists in fortified towns where they cling to traditional ways, while strangely evolved beasts prowl the wilderness beyond.
Conformity is rigidly enforced and those who fall foul of the rules are persecuted: some are killed, others are driven out into the wilds. Only a few fight back - and two of these outlaws, Scarlett McCain and Albert Browne, display an audacity and talent that makes them legends.
The Outlaws Scarlett and Browne Reader Reviews
In addition to our Lovereading4Kids expert opinion some of our Reader Review Panel were also lucky enough to read and review this title. You can click here to read the full reviews.
The Outlaws Scarlett and Browne Press Reviews
Imaginative, original, taut and with multi-layered protagonists... A wild ride. - Jo Cotterill
If you enjoy comedy, mixed with thrilling action, this is the book for you. -- Becky (Age 12) - Books Up North
I've gone for the sheer entertainment and escapism of Jonathan Stroud's The Outlaws Scarlett & Browne, first in a series, and the perfect tonic to January lockdown. [...] Stroud's talent for creating astonishing yet utterly believable literary worlds is well known - and this is another triumph. This adventure - starring a pair of charismatic anti-heroes, intensely cinematic action laced with characteristically dry wit, and a mash-up genres - crammed with gun fights, monsters and shadowy government operatives. Pitched for younger teens, but I expect discerning readers of 10 and up to devour it. -- Fiona Noble - The Bookseller
Perfectly paced, beautifully written and bursting with black humour and bold ideas. -- Philip Reeve
You won't be able to put this down. A classic in the making. -- Eoin Colfer
If you loved this, you might like these...