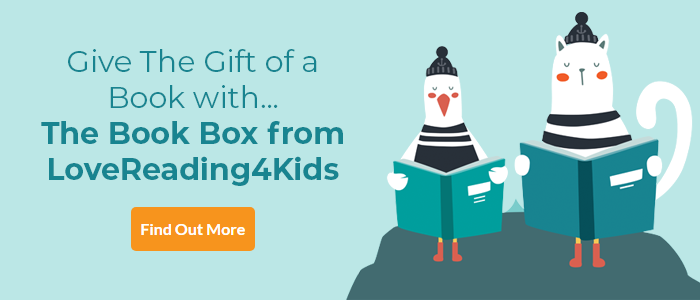 Noah's Gold Review
Humour and comic genius from the award-winning author, Frank Cottrell-Boyce
Boyce in renowned for the humour and empathy in his novels – and this latest is definitely one of the most entertaining, engaging and just plain fun stories. Noah accidently ends up stowing away on his big sister's school geography field trip. The trip was planned to visit the Orinoco Wonder Warehouse in Letterkenny but, due to the teacher (Mr Merriman) programming the satnav wrongly, the mini-bus he's driving ends up on an island – and what appears to be an uninhabited island at that!
Mr Merriman eventually appears to notice the island they are on is not the trips original destination – and leaves the children on the minibus at the top of a cliff whilst he goes to investigate. Unfortunately, he forgets to apply the handbrake properly! Happily, children being children, they have descended from the minibus just before it falls over the cliff…
Having set this wonderful scene we hear how the children survive through a series of amusing letters from Noah to his parents – which he posts in a letterbox on the island. Strangely – as there never appears to be a collection – he gets replies. Whilst on the island it appears that Noah has broken the internet, and no-one has a phone connection – so the children are thrown back on their own ingenuity to survive. Noah also finds a treasure map and they all set off in search of the treasure having adventures along the way.
With such a complex plot, with so many threads, it would be so easy for any lesser novelist to lose control of some elements, but Cottrell-Boyce has no such worries and keeps the reader engaged at all times. The humour is laugh out loud funny, with a heart-warming group of characters who develop throughout the story.
Highly recommended – an engaging read that will keep readers spellbound.
Noah's Gold Synopsis
Being the smallest doesn't stop you having the biggest ideas. Eleven-year old Noah sneaks along on his big sister's geography field trip. Everything goes wrong! Six kids are marooned on an uninhabited island. Their teacher has vanished. They're hungry. Their phones don't work and Noah has broken the internet. There's no way of contacting home . . . Disaster! Until Noah discovers a treasure map and the gang goes in search of gold.
Packed with mystery, adventure and laughs, Noah's Gold is the exciting novel from the bestselling, multi-award-winning author of Millions and Cosmic, Frank Cottrell-Boyce. Fully illustrated in black and white throughout by Steven Lenton, this is perfect for readers of 9+.
Noah's Gold Press Reviews
Another brilliantly entertaining & thought provoking book from the master storyteller Frank Cottrell-Boyce. Once again I am in total awe. - David Walliams
Proper, sparkly, witty, enticing storytelling . . . It's perfect. -- Hilary McKay
A writer of comic genius - he has something of Roald Dahl's magic, but more heart - Sunday Telegraph
Joyous writing. Wonderful characters. Authentic humour. Heart & soul. So Much Fun. And, oh, the dialogue! Just love it! Pure class -- Jenny Pearson, author of The Super Miraculous Journey of Freddie Yates
Frank Cottrell-Boyce's stories make you laugh and cry. He's the real deal for children of eight and over. -- Amanda Craig - Guardian
A laugh-out-loud writer - Guardian
If you loved this, you might like these...