LoveReading View on The Fearsome Beastie
April 2012 Book of the Month.
Winner of The People's Book Prize 2012, a national competition aimed at discovering new and unknown works: a truly democratic book prize decided exclusively by the public. Also Winner of 2013 Heart of Hawick Children's Book Award.
This is a terrific little picture book that parents are likely to be more worried about for the fear factor than any toddler. There's a great storyline written in rhyme with echoes of Grimm's Fairy Tales (Little Red Riding Hood) and indeed of Dr Seuss. The illustrator has captured the story quite brilliantly in big bold illustrations throughout. It's definitely a picture book to share with toddlers but slightly older kids of 4 or 5 who might be just starting to read alone will go wild for it. Without giving anything away it's safe to say there is a happy ending! So, if at first glance parents feel this is a little too frightening for their young child, please go beyond that initial thought as kids we've shown it to have absolutely loved it and are continuing to enjoy it time and time again.
Click here to read an article in The Sun where Giles talks about the inspiration behind The Fearsome Beastie and about his love of monsters.
In addition to winning The Peoples' Book Prize, The Fearsome Beastie has also been shortlisted for many other awards including The Rotherham children's Book award 2012 and The Heart of Hawick Children's Book Prize in 2013.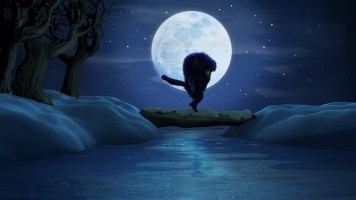 ****The CG animated film of The Fearsome Beastie will be released later this year starring Brian Blessed, Alison Steadman and Lizzie Waterworth.
You can find out more in a great website which follows the animation process
fearsomebeastie.com showing exactly how the book has made the journey to film.
The Fearsome Beastie Synopsis
The fearsome beastie is searching for something to eat and the children are at the top of the menu. Will they be fooled by the fearsome beastie and his clever tricks? The Fearsome Beastie is a brand new title by poet Giles Paley-Phillips. Written in rhyme, this story is reminiscent of the cautionary fairy tales of the past but with a happy ending!
If you'd like to see the Fearsome Beastie book trailer, press play below!
The Fearsome Beastie Press Reviews
'One heck of a good picture book.' - The Booksniffer
'Primary Times Love this book; it is a great story and the illustrations are fantastic.' - The Primary Times
'Wonderful rhyme and strong illustrations make this picture book fun to share with kids. My son said that it's a Modern-day Little red Riding Hood - and it is. Perfect for little boys' - The Sun