LoveReading View on Happy Hector
A warm hearted story about sharing and joining in.
Hector is happy snuggled up on the chair with Tilly. But the other friends want a share of Tilly too. Hector doesn't want to move and he doesn't want to join in! Clever Tilly has a plan that makes everyone feel better!

Tilly and Friends began life as a charming series of six books by acclaimed author-illustrator Polly Dunbar, and... Exciting news! Tilly and Friends begins on CBeebies, in September 2012... 52 delicious episodes. Each episode follows the everyday adventures of Tilly and her five friends – Pru, Hector, Doodle, Tiptoe and Tumpty – all living in a little yellow house!

About the TV series, Tilly and Friends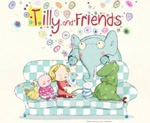 Everybody wants to be Tilly's friend! Step through the front door of The Little Yellow House and enjoy a visual feast of imagination and fun. Tilly is a little girl who lives with her best friends – Hector the playful pig, Tumpty the gentle elephant, Doodle the apple loving crocodile, Tiptoe, the little rabbit who loves to twinkle and Pru the fabulously glamorous chicken.

Tilly's world is one which children will be able to relate to and where friendship is at the heart of everything. Tilly loves having her friends around her and always makes time for them with all sorts of imaginative play, discovering the joys and challenges of friendship.

The series comprises 52 episodes of 11 minutes and encourages creativity in a world of everyday adventures. Made by JAM Media and Walker Productions with creative production from Polly Dunbar herself, the series examines the true values of friends and the essence of real love and friendships.
Happy Hector Synopsis
This title comes from inspired picture-book creator Polly Dunbar, the colourful, charming, soon-to-be televised series following the escapades of Tilly and her friends. Hector is so happy sitting on Tilly's lap - until the others all join in and spoil it. But Tilly knows just how to show Hector how special he is to her...she has painted a picture just for him! Utterly charming artwork, delicious palette, gentle humour and winsome characters have deservedly made this a series of winners.