LoveReading View on The Isobel Journal: Just a Northern Girl from Where Nothing Really Happens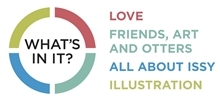 December 2013 Debut of the Month Readers will empathise with this witty and honest journal of a girl getting to grips with impending adulthood. You'll find mini novels within the whole interspersed with sketches, photos and captions. It is a must-have for all hipster teenagers and anyone who appreciates the raw creativity of youth. It is by turns both enchanting and poignant. Adults too will enjoy it if they are still young at heart!!
A Piece of Passion from Emily Thomas, Publisher This is a very special book; a funny, profound and heart-lifting scrapbook in the vein of CHOPSTICKS and IMPORTANT ARTIFACTS, and with the narrative charm of Laura Dockrill.

But, as the name suggests, this is Isobel's journal and nobody else's. A diverse and delightful scrapbook of an eighteen-year-old student's life, loves and preoccupations. I spotted Isobel's witty and sometimes slightly heart-breaking tweets while scrolling through Twitter a year or so ago. Something about her sharply observational humour, her innocence and her intelligence really struck me. It seemed as though she was telling the truth about her life, in a refreshingly unguarded way, and her words stayed with me, so I got in touch.
So now, here are Isobel's sketches, photographs and captions, all of which beautifully encapsulate her wit, her life and her considerable artistic talent. I defy anyone not to laugh out loud, and cry a little bit by turns... A sweetheart of a book and one for all teenagers-at-heart (whether eighteen or eighty).
The Isobel Journal: Just a Northern Girl from Where Nothing Really Happens Synopsis
The Isobel Journal is no ordinary snapshot of a contemporary teenage life.
A charming and vivid narrative scrapbook of the eighteen-year-old author's sketches, mini-graphic novels, photographs and captions, it captures her wit, her observations and her creative talent as she takes us through the three central themes in her life: 'Love', 'Friends, Art and Otters' and 'Me'. Resonant of Laura Dockrill's Mistakes in the background and with the powerful naive illustrative style of cult Japanese artist Yoshitomo Nara.
The Isobel Journal: Just a Northern Girl from Where Nothing Really Happens Press Reviews
This bookis head and eye and mind bliss. I want to print every page onto a t-shirt and wear one everyday to show them to the world - Laura Dockrill

A fresh and charmingly frank portrait of teen life which perfectly captures the day-to-day realities of growing up, The Isobel Journal will leave readers excited to see what Harrop will come up with next - Booktrust