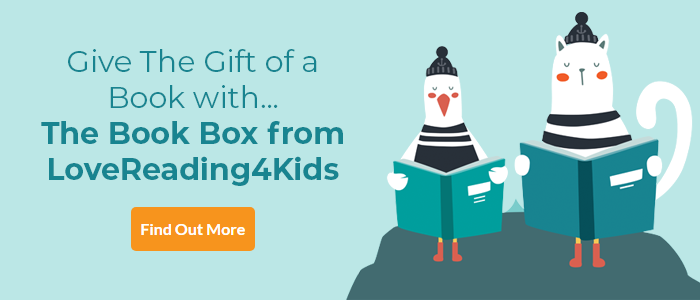 Geek Girl Review
One of our Books of the Year 2013 and Winner of the 2013 Lovereading4Kids People's Choice Best Kids Book.
There's laughter and tears in this hilarious roller-coaster story of teen life in the starry world of modelling. Self-avowed geek Harriet tells her own story of friendship, family and the extraordinary world of fashion. Harriet's cleverness is not necessarily a great help as she tries to find her way through the teen confusions as a geeky outsider but, in the end, after some unexpected moments on the cat walk, all ends well!
Shortlisted for the Leeds Book Awards 2014, 11-14 age category - Shortlisted for the Roald Dahl Funny Prize 2013 - March 2013 Debut of the Month
.......................................................................

In addition to our Lovereading expert opinion for Geek Girl a small number of LoveReading4Kids members were lucky enough to be invited to review this title. Here's a taster....'I recommend this book to teenagers everywhere, it is a timeless classic that will be remembered forever, Read it!.'....
Scroll down to read more reviews...
Books in The Geek Girl Series:
1. Geek Girl
2. Model Misfit
6. Forever Geek
Other Info
Elizabeth Clifford, Commissioning Editor of Geek Girl - on why she chose to publish the book......In February this year, I first read the immortal line: 'My name is Harriet Manners, and I am a geek…' and I knew I'd found something really special. Funny, fresh and utterly genuine – Holly Smale's debut, Geek Girl, captures the very essence of being an awkward teenage girl as self-confessed geek, Harriet, accidentally gets model scouted and stumbles her way from school bus to catwalk.
A layered and engaging read with real heart, Geek Girl is much more than a teen fashion story; it explores deeper emotional themes of best friends, romance, bullying and betrayals, and wittily turns transformation myths on their head – all with a smile.
Geek Girl Synopsis
"My name is Harriet Manners, and I am a geek."
Harriet Manners knows that a cat has 32 muscles in each ear, a "jiffy" lasts 1/100th of a second, and the average person laughs 15 times per day. She knows that bats always turn left when exiting a cave and that peanuts are one of the ingredients of dynamite.

But she doesn't know why nobody at school seems to like her.

So when Harriet is spotted by a top model agent, she grabs the chance to reinvent herself. Even if it means stealing her best friend's dream, incurring the wrath of her arch enemy Alexa, and repeatedly humiliating herself in front of impossibly handsome model Nick. Even if it means lying to the people she loves.
Geek Girl Reader Reviews
Kids love to read and so in addition to our Lovereading expert opinion some of our Lovereading4kids Reader Review Panel were also lucky enough to read and review this title. You can read their full reviews by clicking here.
Zoe Crook - 'I couldn't stop reading this book. Yes, people, this is the type of book that will keep you up all night! Don't say you weren't warned!'
Robin Johansson,age 14 and Hannah Janman, age 11 - 'Geek Girl is an amazing book for girls in particular, more of a teenage/issues drama than a child's book. I was so upset when I finished it, I really loved it!'
Meaghan Lagan, age 14 - 'I really enjoyed this book because it had a total twist.'
Laoise Tabi, age 14 - 'It was a very girly book, humorous and clever. Laugh out loud quality.'
Kara, age 11 - 'After reading Geek Girl, I felt proud to be who I am because the book shows that you don't have to be like anyone else, you can just be yourself.'
Stefanie Tucker, age 13 - 'The plot is fresh and I found myself inspired.'
Alice D'Angelo, age 14 - 'From the first page, I loved Harriet Manners and her look on life.'
Sezen Mehmet, age 12 - 'I really enjoyed reading Geek Girl. It was engaging and a fun ride of emotions and laughs.'
Delilah Acworth, age 13 - 'I recommend this book to teenagers everywhere, it is a timeless classic that will be remembered forever, Read it!'
Eloise Percy-Davis, age 12 - 'I love the zany and warm-hearted way that Holly Smale writes and I look forward to reading more of her work!'
Izzy Read, age 12 - 'Most people can relate to this book, it covers so many aspects of a person's life; struggling to fit in, finding out who you are and having problems with friendships.'
Rachel Bourn, age 13 - 'This is the funniest book I've read in a long time. Harriet and her best (ONLY) friend Nat are two of the most entertaining characters I have come across.'
Mia Cook age 11 - 'I would highly recommend Geek Girl to anyone who likes a good laugh and enjoys a one-of-a-kind story.'
Safiyah Afghan - 'A perfect book for teenage girls who enjoy these clever books about ordinary teenagers who undergo radical changes, but stay true to themselve.'
Carla Mc Guigan age 12 - 'This novel was a very interesting read and I really enjoyed reading it. I look forward to reading more of Holly Smale's books.'
Emily Clowes, 11 - 'Geek Girl is an amazing book. Harriet and her best friend, Nat are living in a world of fashion. Being clever doesn't always help you through your troubles and Harriet finds this out when she goes through her teen confusions. This book is filled with laughter and tears; it's a bit like being on a roller coaster and ending up at the end of a catwalk every time.
If you loved this, you might like these...