Elmer and the Monster Review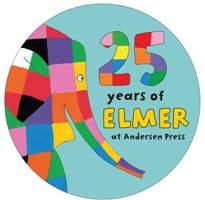 Best-selling Elmer the patchwork elephant is back for a new adventure. All the animals in the jungle are terrified! There is a strange roaring noise and no one knows what it can be. Soon, all the animals are stampeding as far away from it as possible. All except for Elmer… Bravely, Elmer sets out to find the source of the noise. And makes a very surprising discovery. A great new adventure for Elmer and his animal friends.
Elmer, everyone's favourite patchwork elephant, is 25!
Andersen Press invites YOU to join in with Elmer's Anniversary Parade and 'show your colours'. You can hold an Elmer parade in a library, a bookshop, a classroom, at home, outside – anywhere!
Download an Elmer's Parade Pack here which includes craft activities, games, colouring sheets, bunting and lots of ideas for holding your own Elmer parade!
You can also share pictures of your parade and Elmer activities on twitter using #Elmer25
Elmer and the Monster Synopsis
There is pandemonium in the jungle! A strange roaring sounds sends the animals stampeding, convinced it's a monster. But all is not as it seems. Only Elmer is brave enough to investigate, and what he discovers comes as quite a surprise!
Elmer and the Monster Press Reviews
Praise for the Elmer series
A deserved favourite with the 2-5s Sunday Times
A celebration of individuality and laughter Publishers Weekly
Excellent Parent Guide
Striking effects with simple means The Times Literary Supplement