Buy from our bookstore and 25% of the cover price will be given to a school of your choice to buy more books.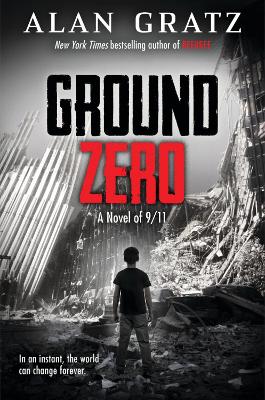 Ground Zero
About
Ground Zero Synopsis
Ground Zero is a number one New York Times bestseller The plot starts at a heart-pounding pace and never relents... A contemporary history lesson with the uplifting message that humanity's survival depends on us working for, not against, one another. A must-have. - School Library Journal In time for the twentieth anniversary of 9/11, master storyteller Alan Gratz (Refugee) delivers a pulse-pounding and unforgettable take on history and hope, revenge and fear - and the stunning links between the past and present. September 11, 2001, New York City: Brandon is visiting his dad at work, on the 107th floor of the World Trade Center. Out of nowhere, an airplane slams into the tower, creating a fiery nightmare of terror and confusion. And Brandon is in the middle of it all. Can he survive - and escape? September 11, 2020, Afghanistan: Reshmina has grown up in the shadow of war, but she dreams of peace and progress. When a battle erupts in her village, Reshmina stumbles upon a wounded American soldier named Taz. Should she help Taz - and put herself and her family in mortal danger? Two kids. One devastating day. Nothing will ever be the same. Suitable for classroom reading With two action-packed perspectives, Gratz powerfully explores the ways in which the past shapes the present Don't miss Refugee, Grenade and Allies by Alan Gratz. REVIEWS With his signature accessibility and insight, Gratz tackles events on both U.S. soil and abroad in Ground Zero..... Ground Zero will appeal to middle-grade readers, who were born after the events of 9/11, and to those adults who lived through it and will never forget. - Booklist Gratz moves back and forth between the two narratives in short, nail-biting chapters that create a vivid picture of each setting and make readers feel invested in each character's relationships and choices, and in the high-stakes global forces that affect the intimate details of their lives. -Horn Book Gratz's deeply moving writing paints vivid images of the loss and fear of those who lived through the trauma of 9/11. - Kirkus This tautly paced novel explores the events of that tragedy and the subsequent American response through two parallel story lines. - Publishers Weekly
About This Edition
Buy from our bookstore and 25% of the cover price will be given to a school of your choice to buy more books.