Thiago De Moraes - Illustrator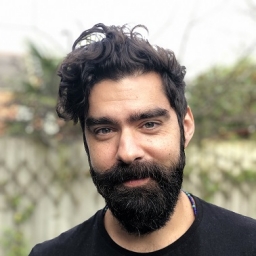 About the Illustrator
Thiago De Moraes grew up obsessed with drawing and would doodle on anything – even his exam papers. He started illustrating professionally at the age of 16 for a Brazilian newspaper. Thiago has won major awards for his illustration work in advertising – The Zoomer's Handbook is his children's illustration debut.
Featured books by Thiago De Moraes

Baby and Toddler
3+ readers
This thoroughly charming picture book fills night-time with friendly bears and should delight little children. At night, when it's dark and quiet, the Night Bear hops onto a night bus and sets off to find his dinner – nightmares. Travelling round he finds treats on doorsteps everywhere. Monsters with hideous eyes, dragons and scary pirates are all delicious, but a dream of rainbows and unicorns is so disgusting he has to give it away. The bear is super cuddly and lovable in Thiago de Moraes' attractive illustrations and this will add fun and adventure to little children's idea of the night, making it perfect bedtime reading.

Baby and Toddler
3+ readers
December 2016 Debut of the Month | One of our Books of the Year 2016 | Shortlisted for the Sheffield Children's Book Award and longlisted for the Klaus Flugge Prize. This is not a book for zookeepers, and it's not a book for farmers, readers are advised. Instead, it's for zoomers, and zoomers look after very special beasts indeed, shigers for example - their stripy wool makes the nicest jumpers - or the horsodile, who gives the best rides when you need to get somewhere fast, even if it's underwater. A host of the animals cared for by zoomers appear in the book, depicted in soft browns, blues, and greens against a pale grey background, each picture accompanied by informative passages of text! Children will love this parade of funny, mixed-up creatures, and be tempted to invent new animals to add to the zoomers' handbook. ~ Andrea Reece
Facebook Updates
If this is your illustrator page then you can share your Facebook updates with your readers right here on LoveReading4Kids
Find out more
NEW INDIE AND SELF PUBLISHED BOOK REVIEW AND PROMOTION SERVICE LAUNCHED!
Read More
×