James Cottell - Illustrator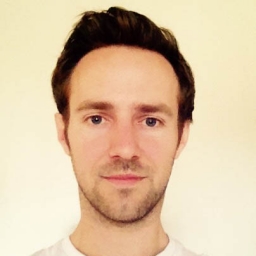 About the Illustrator
James graduated from Falmouth University with a BA (Hons) in Illustration in 2007. He lives in the UK and is represented by NB Illustration. He loves the countryside, music and illustrating dogs getting up to mischief…
Featured books by James Cottell

7+ readers
The energy and humour that kids so enjoyed in Steven Vinacour's lockdown broadcasts is all captured in the new book Tudor Tangle, as Ted travels back via the toilet bowl (don't ask!), to the time of the Tudors and the court of Henry VIII, in search of advice from the chop-happy Tudor monarch himself. Steven has created another unputdownable, hilarious story that zips the reader through time and space (spoiler alert!), laughing out loud!

7+ readers
9+ readers
Louis is back for his sixth speedily-paced comic quest, and this time he's on a mission to set his comedy career on a more stellar trajectory. "I've only one talent," Louis acknowledges. "Making people laugh. And I've dreamed of being a comedian since I was an amoeba." Unfortunately, though, Louis's slot on a popular vlog is curtailed when its hosts head to America to pursue bigger opportunities, so he and Maddy, his agent (and girlfriend) must seek new channels for his comic genius. Maddy's irrepressible can-do confidence is an infectious joy throughout, not least when her unfailing support and invention leads them to track down (who they believe to be) the producer of a new talent show for young comedians. Needless to say, things never go quite to plan in Louis's wonky world and he must conquer more than a few problems and misunderstandings before he gets his chance to shine. With lashings of laughs induced by Louis's mindfulness-obsessed, cringe-inducing mum and dad (who misinterpret his pursuit of comic acclaim as a cry for help, and inadvertently go viral themselves), this riotously readable feast serves up an energetic, child-centred perspective on family life, friendship and following your dreams (hitches and all).

7+ readers
Ted has a secret: his toilet allows him to travel through time. Yes – really. All he has to do is climb in, press the flush and whisper a destination. In this adventure, he's determined to win first prize for a school project so travels back to Roman times, coming face-to-face with 30,000 legionaries on their way to invade Britain; meanwhile, wearing an authentic toga to school really helps swing the competition his way. This popular series is full of toilet humour (to be fair, the author does apologise for that) and the kind of jokes children love, but it's packed with historical facts too, including the quirky, memorable ones that really make history come alive. If you're looking for more zany takes on Julius Caesar and friends, Gary Northfield's Julius Zebra series is terrific, while Matt Brown has an equally funny take on time travel, though without the history, in the Compton Vallance books.
Twitter Updates
If this is your illustrator page then you can share your Twitter updates with your readers right here on LoveReading4Kids
Find out more
Facebook Updates
If this is your illustrator page then you can share your Facebook updates with your readers right here on LoveReading4Kids
Find out more
CHECK OUT OUR INDIE AND SELF PUBLISHED BOOK REVIEW AND PROMOTION SERVICE
Read More
×