George Butler - Illustrator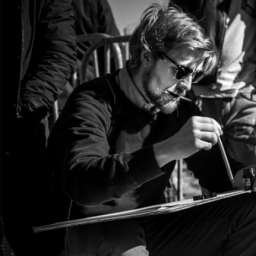 About the Illustrator
George Butler is an award-winning artist specialising in current affairs and travel. His work has been published by The Times, BBC, New York Times, The Guardian, CNN and more, and has been displayed in the V&A Museum. His pen, ink and watercolour drawings are made in situ, and he has reported on a range of conflicts and crises in countries including Syria, Iraq, Afghanistan and Myanmar. In 2014 George and three friends founded the Hands Up Foundation, which promotes awareness of the ongoing war in Syria and supports salaries of professionals in the country. It has so far raised over £3.5 million.
Drawn Across Borders is his first children's book.
Featured books by George Butler

9+ readers
11+ readers
December 2021 Book of the Month | A Julia Eccleshare Pick of the Month November 2021 | Against a huge sweep of the history of Greece including the stories of the ancient heroes, the occupation of Greece by the Germans in the Second World War and right up to the present-day of the arrival of Syrian refugees, at heart this is an touching story of Nandi, a teenager living in Australia, and the wonderful bond she has with her Auntie Ellie in Ithaca. Despite the distance between Australia and Greece, Nandi and her very special Auntie Ellie meet frequently. But then Auntie Ellie becomes too frail to travel. Now Nandi must go to Ithaca to find her. It's a trip she is longing to make and, when she does so, she uncovers the remarkable story of Auntie Ellie's life. A beautiful and touching story which speaks of love and care. And history.

11+ readers
13+ readers
YA readers
Written and illustrated by award-winning artist and current affairs specialist George Butler, Drawn Across Borders is a unique empathy-inspiring portrayal of the affecting personal experiences of twelve migrants, covering countries as diverse as Tajikistan, Myanmar, Kenya, Syria and Palestine. It's an honest, awe-inspiring tribute to the featured individuals, a testament to the strength of the human spirit, and a timely reminder that real people lie behind every news story on migrants. Real people with real (and varied) reasons for leaving places they once called home. Butler frames the book with brilliant clarity: "People move around the world for many reasons. Some migration is voluntary; most is not." The written portraits are deeply personal, framed by the author's experiences on the frontlines of - for example - refugee camps, and based on his conversations with migrants. When combined with the accompanying painterly illustrations, they create a book that draws the heart and eye to a clutch of stories that should be known. Recommended for readers aged 11 upwards who have an interest in current affairs and history (adults included), this would also make a valuable springboard for discussing migration and global politics in a classroom context. The LoveReading LitFest invited George to the festival to talk about Drawn Across Borders. You can view the event by subscribing to the LitFest programme for as little as £6 per month - or you can pay per view. For just £2, go, see George in conversation with Paul Blezard and find out why everyone should read this book. Check out a preview of the event here
Facebook Updates
If this is your illustrator page then you can share your Facebook updates with your readers right here on LoveReading4Kids
Find out more
CHECK OUT OUR INDIE AND SELF PUBLISHED BOOK REVIEW AND PROMOTION SERVICE
Read More
×