Metaphrog - Illustrator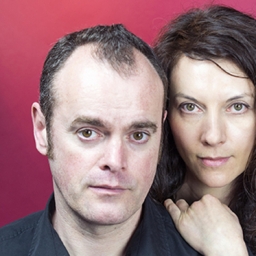 About the Illustrator
Metaphrog are Sandra Marrs (art) and John Chalmers (words), winners of the Sunday Herald Scottish Culture Awards Best Visual Artist 2016.
They have received multiple Eisner Award nominations and critical acclaim for their Louis series of graphic novels, and Louis – Night Salad was Highly Commended for the Scottish Children's Book Awards 2011.
They are also the authors of The Red Shoes and Other Tales and The Little Mermaid (an Excelsior Awards Junior winner 2018) fairy tale adaptations. They received a SICBA Award (Scottish Independent Comic Book Alliance) Outstanding Achievement to Comics in 2018, and were shortlisted for The Herald Culture Awards 2019. They live and work in Glasgow, Scotland.
Featured books by Metaphrog

9+ readers
11+ readers
Shortlisted for the Excelsior Award White 9+ KS2 | Created by artist duo Metaphrog, this version of the chilling story of Bluebeard plunges readers into a vivid fairytale world that swaps idyll for nightmare with the turn of a page. Eve's dreams of a future with her childhood sweetheart Tom end when she is chosen by Bluebeard to be his wife. Her neighbours in the village are suspicious of him and believe the forest around his castle is enchanted but his wealth and apparent generosity win them and Eve's family over. Trapped in his castle with its labyrinth of corridors and locked doors, Eve eventually finds herself at the room she's been told never to enter and discovers her husband's terrible secret. In this version, Metaphrog allow her a sister to help in her trial and the chance to win her happy ending. With a palette of brooding purples and blues and luminous reds, orange and pink - sunsets and sunrises - the book perfectly balanced menace and beauty in a story that will entrance readers of all ages.

9+ readers
11+ readers
Winner of the Excelsior Awards Junior 2018 | Far out under the ocean, the Little Mermaid dreams of exploring the world above. When she finally turns sixteen, she is allowed to rise to the surface where she falls in love with a young prince. In order to be with him she must become a human, and so makes the most dangerous pact with the Sea Witch. Also from this talented team; Bluebeard The Red Shoes And Other Tales

9+ readers
11+ readers
As the child of peasants, Karen grew up with a pair of simple red shoes. Then, when her parents died, Karen was adopted by a rich old woman who gave Karen a new pair of red shoes that would make princesses green with envy. This newfound wealth causes Karen to forget her humble origins and grow up to become a cruel and vain adult. Then, one day, the red shoes that sparked her greed come to life and steer Karen down a path she never would have imagined in her wildest dreams. This volume also includes Metaphrog's adaptation of the Hans Christian Andersen classic, The Little Match Girl and a tale of their own invention, The Glass Case.
Facebook Updates
If this is your illustrator page then you can share your Facebook updates with your readers right here on LoveReading4Kids
Find out more
CHECK OUT OUR INDIE AND SELF PUBLISHED BOOK REVIEW AND PROMOTION SERVICE
Read More
×