Konnie Huq - Author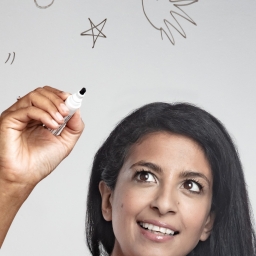 About the Author
As the longest serving female Blue Peter presenter, from 1997 to 2008, Konnie Huq is no stranger to the middle-grade market. She is an ambassador for the Prince's Trust and the British Asian Trust. This is her first foray into children's books and Cookie is inspired by Konnie's own London Bangladeshi background, her love of science and her unashamed nerdiness!
Photo credit Ed Miller
Featured books by Konnie Huq

7+ readers
9+ readers
Cookie is one of those characters who have the best intentions, but just can't help getting into scrapes and mix ups, and readers will love her all the more for it. In this new adventure, her plans for a plastic-free birthday party are overtaken by circumstances and before we know it, she's accidentally become best friends with Suzie Ashby, got a detention, upset her friend Jake, and handed over £25 to take part in Woodburn Primary's very own F Factor, which turns out to be not what she expected at all. Cookie being Cookie, it all works out in the end and everyone, the reader included, has lots of fun along the way. Konnie Huq clearly remembers what it is to be a ten year old very well indeed and Cookie's fast flowing, tangent-embracing, stream of consciousness narrative is a delight. Huq's own black and white illustrations are the perfect complement to the text, giving us even clearer insight into what's going on in Cookie's head. A fast, fresh and very funny read.

7+ readers
9+ readers
Well-known children's TV presenter Konnie Huq has created this delightful novel, illustrated throughout with small sketches and some very humourous footnotes! Cookie is a bright, bold character, who doesn't understand the word no, who leaps in with both feet – and so gets herself into trouble just a little too often. When her best friend announces her family plan to move away Cookie is bereft – not helped by the arrival of a very annoying boy – who moves in next door to Cookie. Cookie wants to represent her school on the Brainbusters TV quiz programme, but to do so she must win the Y5 science project – will she do it? The storytelling is funny and energetic – just like Cookie. There are some real laugh out loud moments, paired with explanations and methods on the science experiments described in the book – and hints on how to do them safely at home. A real pleasure to have a book encouraging scientific exploration in such a fun way – and such a strong young female character.
Author Info
Facebook Updates
If this is your author page then you can share your Facebook updates with your readers right here on LoveReading
Find out more
NEW INDIE AND SELF PUBLISHED BOOK REVIEW AND PROMOTION SERVICE LAUNCHED!
Read More
×