Richard Lambert - Author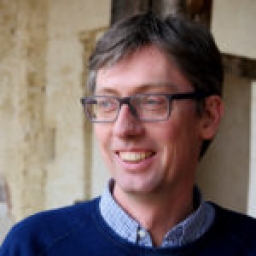 About the Author
Richard Lambert writes poetry and fiction. His second poetry collection The Nameless Places was published by Arc in 2017, and his poems have appeared in The Spectator, the TLS, and The Forward Anthology. He is a graduate of the MA in Creative Writing at UEA.
His short story 'The Hazel Twig and the Olive Tree' was shortlisted for the prestigious Sunday Times EFG Short Story Award. In 2019 he won the Fish Short Story Prize.
Featured books by Richard Lambert

11+ readers
13+ readers
November 2020 Debut of the Month | Nimbly navigating a fine thread between real-world tragedy and elemental inner demons, Richard Lambert's The Wolf Road is a stunning coming-of-age thriller about a boy's battle with bereavement, and the wolf that holds the key to his healing. It's un-put-down-able and emotionally haunting in perfectly balanced measures. Fifteen-year-old Lucas's life unravels when he discovers his parents were killed in a car crash caused by a dog. In an instant "the world didn't make sense", and now he must live with his nan, an "odd woman in purple DMs" (and socially-conscious solicitor) he's only met twice in his life. Despite his angry protests, Lucas has no choice but to move to Nan's cottage in the Lake District, certain the offending dog was, in fact, a wolf. It's not long before wolves infiltrate all aspects of his life - at school he reads The Call of the Wild (a book "about a dog that really wants to be a wolf"). Local TV news reports on a local farmer who believes his livestock is being killed by a wild wolf. And then lupine menace encroaches on Lucas's reality when he hears and glimpses what must be the wolf. As he wonders whether it's coming for him, to "finish off the family after Mum and Dad," he confronts his wildest pains in the wilds of the mountains. While the theme of loss - and Lambert's inventive handling of it - will chime with readers who loved Patrick Ness's A Monster Calls, this also has great appeal for fans of emotion-driven adventures, such as Piers Torday's nature-rich novels. Other plot strands skilfully untangle the complex relationship between Lucas and his Nan. The faltering understandings reached between grandmother and grandson are a joy to witness, as is the bond Lucas forms with Debs, a Sylvia Plath-reading goth-punk.
Facebook Updates
If this is your author page then you can share your Facebook updates with your readers right here on LoveReading
Find out more
NEW INDIE AND SELF PUBLISHED BOOK REVIEW AND PROMOTION SERVICE LAUNCHED!
Read More
×