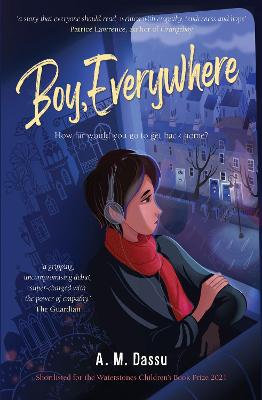 Boy, Everywhere, published by Old Barn Books, is the 2021 Little Rebels Award winner.
The £2,000 prize was announced at an online ceremony on 8th September. The award recognises children's books which explore political ideas, challenge the status quo or promote social justice, social equality and a more peaceful and fairer world. It is given on behalf of the Alliance of Radical Booksellers, and administered by children's bookseller Letterbox Library and bookshop Housmans.
Speaking about the winning title, Little Rebels Award Judge, Darren Chetty, said, "Boy, Everywhere is everything that I look for in a Little Rebels book – it's politically interesting, it's timely, but first and foremost it's beautifully written. Often with political books we forget that aspect…that the writing itself needs to sing and it really does in this book."
Fellow judge Emily Drabble of BookTrust added: "It sheds a light on injustice and unfairness in our society and, I believe, will encourage radical thoughts and actions of the next generation to hopefully affect some change."
When LoveReading4Kids Editorial Expert Tricia Adams read this book on publication she commented: "Read this book – it's needs to be in classrooms and bookshelves across the country – it will change you and stay with you."
"Sami is a very ordinary 13-year-old boy, attending school, playing football, PlayStation and has his own iPad – the only thing different about Sami is that he lives in Damascus. As the war in Syria creeps closer, until a bombing of a local mall affects his family, everything has been good. Now Sami and his family have to leave their home, their friends and their beloved Jadda (grandmother) – not just to move to another town but to start a long and perilous journey to the safety of the other side of the world – to England.
The journey, and therefore the story, are not for the fainthearted – Dassau tells the story of the journey, the fear and the privations authentically and we vividly share Sami's upset, anger and fear throughout every page. The portrait drawn of the family in such a stressed and frightening situation has the reader on the edge of their seat and pulling at our hearts all the way through.
Written with a deep understanding and meticulous research into similar journeys this is a book that will not leave you for a very long time. The switches from adversity to hope to despair in Sami keep your heart in your mouth and is so realistic I was raging at the government for its inhuman treatment of desperate refugees."
The remaining 2021 shortlisted books were:
Agent Asha: Mission Shark Bytes by Sophie Deen, illustrated by Anjan Sarkar Brand New Boy by David Almond, illustrated by Marta Altés
Fearless Fairy Tales by Konnie Huq and James Kay, illustrated by Rikin Parekh The Goody by Lauren Child
Hope Jones Saves the World by Josh Lacey, illustrated by Beatriz Castro
It Isn't Rude to be Nude by Rosie Haine
A Kind of Spark by Elle McNicoll
The Soup Movement by Ben Davis
Jane Porter and Maisie Paradise Shearring took home the award in 2020 for their picture book The Boy Who Loved Everyone.