The Books Are My Bag Readers Awards are one of a kind. They're the only book awards curated by bookshops and chosen by readers, like you! The Books Are My Bag Readers Awards include six shortlists which are chosen by booksellers across the UK and Ireland, while the Readers' Choice Award – nominated and chosen entirely by readers – completes the set.
The Books Are My Bag Readers Awards launched in 2016, in partnership with and sponsored by National Book Tokens. Winners will be announced on 9th November at an awards ceremony at Foyles on Charing Cross Road, hosted by "Strictly Come Dancing" co-host and BBC Radio 2 presenter Claudia Winkleman.
The Children's fiction shortlist is: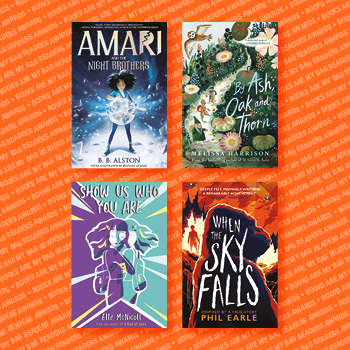 Amari and the Night Brothers by B.B. Alston - "a middle grade fantasy for a multi-cultural society"
Show Us Who You Are by Elle McNicoll - "the second book from the author of A Kind Of Spark, with neurodivergent characters you'll root for and a moving friendship at its heart"
When the Sky Falls by Phil Earle - "a powerful story of friendship against the odds inspired by real events in World War II"
By Ash, Oak and Thorn by Melissa Harrison - "a breathtaking tale of the rich, wild world and all its wonder"
The YA fiction shortlist is: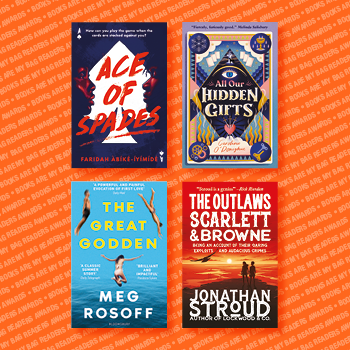 Ace of Spades by Faridah Àbíké-Íyímídé - "an ingeniously twisty thriller exposing white supremacy in an elite high school"
All Our Hidden Gifts by Caroline O'Donoghue - "an inventive, inclusive mystery infused with ancient magic and the entanglements of friendship"
The Great Godden by Meg Rosoff - "summer love, lust and loyalties tangle in this piercingly powerful coming-of-age story"
The Outlaws Scarlett and Browne by Jonathan Stroud - "enigmatic outlaws navigate a perilous quest across apocalyptic England"
The public vote opens today to decide the winners across all of the categories.
The public are invited to vote for a winning title from each shortlist until 11pm on 31st October, with the winners being announced on 9th November.
What are you waiting for... https://www.nationalbooktokens.com/vote