LoveReading View on Jumblecat
July 2014 Debut of the Month Introducing a fantastically funny new voice in children's fiction. Think David Walliams meets Franck Cottrell Boyce with a smidgen of classics like Dick King-Smith and Richmal Crompton thrown in. Jumblecat is bursting with quirky characters (including a jumbled up talking cat - I ask yo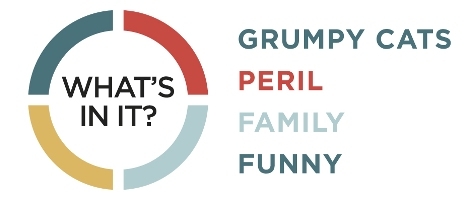 u!, a taxidermist and an eccentric old lady), juicy and playful writing. It is a book to be relished, read and re-read over again. Beautifully illustrated with lots of black and white line art by the Greenaway Medal nominated artist Kate Hindley, Jumblecat is sure to capture a child's heart as has happened with the kids from the Lovereading4kids reader review panel who were lucky enough to read and review it ahead of publication.
A Piece of Passion from Emma Matthewson, Editor-at-Large It was quite a dreary day outside when I started reading Jumblecat by Archie Kimpton, and it cheered me up so much! The story of Billy, who discovers a cat who not only can talk but is literally jumbled up (head, tail, ears, paws, all in the wrong place) is such fun. For fans of Roald Dahl and David Walliams, this story is perfect for boys and girls - something that really drew me to it, when so many stories are clearly aimed at one or the other. I just loved it as I laughed (at Billy's obsessively neat freak mother hairdrying the carrots before she puts them in the fridge) and cried (at Billy's really very touching relationship with his gentle father). I really hope everybody else who reads it will love it just as much as I do.
Jumblecat Synopsis
Billy Slipper is a fairly normal boy with a definitely not-so-fairly normal family. All he wants to do is add to his 'Collectabillya' (an assortment of weird and wonderful objects he finds) in peace, but his cleaning-mad mum (she even clingfilms the carrots!) and his fantastically horrid twin sister have other ideas. However, they don't bargain on Billy finding his best ever Collectabillya - Jumblecat! Jumblecat is a ...well, a jumbled-up cat (who talks, by the way), and he's set to change the Slippers' lives forever. With the help of his batty old-lady next-door-neighbour, Billy must battle to win the town pet show (top prize: GBP10,000), find a vet who can un-jumble Jumblecat (price: GBP10,000), Rescue Jumblecat when he is stolen (culprit: an insane taxidermy-obsessed general) - and then stop Jumblecat from getting stuffed, all with the help of his dad's milk float. Sounds easy? Well, you just haven't met Jumblecat yet.
Jumblecat Reader Reviews
Kids love to read and so in addition to our Lovereading expert opinion some of our Kids Reader Review Panel were also lucky enough to read and review this title.
Jumblecat Press Reviews
This is a delightfully nutty story, fizzing with energy, colourful characters and a lively use of language. -- Sally Morris Daily Mail
Its portrait of a difficult domestic life is funny while retaining its grit, and Billy's friendship with his elderly neighbour Mrs Mandiddee comes straight out of Roald Dahl. This is a first novel, and I will watch with great interest where Kimpton goes next. -- Lorna Bradbury The Telegraph
If you loved this, you might like these...