LoveReading View on Eagle Strike
The fourth, thrilling episode in the number one bestselling Alex Rider series. Reluctant teenage super sleuth Alex Rider fights clever and ingenious villains and meets plenty of pretty girls whilst trying to decode a secret operation of a madman named Gregorovich. Every chapter is left on a knife edge, perfect for reading mad 9+ year olds and terrific for getting reluctant readers reading.
Some of our readers, new to the Alex Rider series, put themselves forward to read and review all ten titles. Check out their reviews below and if you click on the link 'Read full review' you will be able to view the reviews for all 10 titles.


Eagle Strike Synopsis
In the fourth book in the number one bestselling Alex Rider series by Anthony Horowitz, teenage spy Alex is in the South of France, hoping to sever his links with MI6. But when a sudden attack on his hosts plunges Alex back into a world of violence, he soon uncovers a plan called Eagle strike - a discovery more terrible than anything he could have imagined.
The Alex Rider series has sold over 13 million copies in English and is published in over 28 languages.
The story of Alex Rider, reluctant teen spy in the order of his missions:

1. Stormbreaker
2. Point Blanc
3. Skeleton Key
4. Eagle Strike
5. Scorpia
6. Ark Angel
7. Snakehead
8. Crocodile Tears
9. Scorpia Rising

and Russian Roulette - The Alex Rider Prequel
For more news and chat visit the Alex Rider facebook page and find out more about the series and special Alex Rider events at www.alexrider.com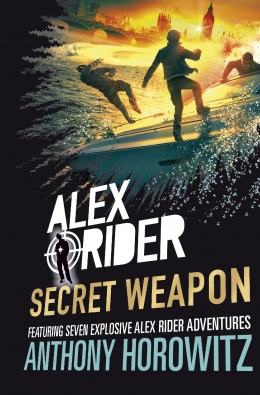 We have an fantastic Alex Rider giveaway to celebrate the publication of Secret Weapon, a collection of thrilling short story adventures. ONE lucky reader will win a SIGNED HARDBACK copy of Secret Weapon, with a bookmark PLUS a paperback copy of ALL the books in the Alex Rider series. And then TWO runners up will win a SIGNED HARDBACK copy of Secret Weapon, with the bookmark. A sensational prize for any Alex Rider fan! Please note that this draw is open only for UK residents and is free to enter, multiple entries from the same email address will only be counted once. The draw closes on 29 April 2019. The winners will be notified by 13 May 2019. Good luck!
Eagle Strike Reader Reviews
Kids love to read and so in addition to our Lovereading expert opinion some of our Lovereading4kids Reader Review Panel were also lucky enough to read and review this title. You can read their full reviews here.
Rachel Galbraith, age 10 - 'Action-packed adventure leading up to the big question.'
Sam Harper, age 11 - 'A relaxing holiday? No. Heat seeking missiles, bike chases and nuclear weapons? Yes!A brilliant, fast-paced adventure which had me on the edge of my seat.'
Alex Faulkner, age 10 - 'I enjoyed this book so much I could not stop reading it...The book had tension spreading across every page. I felt like I was there, watching the action happen.'
William Longlands, age 11 - '5/5 - continues the winning formula of previous books. One of the baddies from book one returns.'
Dylan Sweet, age 11 - 'The pace of the story is very fast and it is a real page turner.'
Imogen Fisher, age 14 - 'this time Alex is alone, with no help from the government, and he also has a limited amount of time, so save millions of people.'
Chloe Shortall, age 18 - 'As with all previous Alex Rider novels, Eagle Strike is full of action and excitement. The storyline is brilliantly done and each chapter leaves you wanting more. It was very hard to put this novel down.'
Alice East, age 10 - 'Alex is peacefully relaxing on holiday in France, until one of his friends is suddenly attacked. THIS is Alex Rider's 4th and most deadly mission yet; will he succeed or will he fail?'
Emily Kinder, age 14 - 'As usual Horowitz spins a spectacular tale of action and tension, throwing Alex into another, darker, mission that threatens all he knows.'
Chloe McIlroy, age 14 - 'This book will have you on the edge of your seat! You will definitely want to read this thrilling adventure!'
Luke Bauer, age 12 - 'After Alex's friend Sabina's holiday home blows up he has a mission on his hands without MI6 to help him. Can he stop a mad, power-hungry singer from taking over the world?'
Jake Fletcher, age 14 - 'Alex flies like an Eagle in this next book, as he crosses the globe to stop a mass-murder. The timer's on: 90 minutes to save the world. No Pressure.'
Tomasz Hawryszczuk, age 9 - 'Another great Alex Rider story. This time with a lack of gadgets and a lack of MI6! Alex is on holiday just chilling with a friend when he spots an old enemy from a previous book in the series.'
Mukunth Kowsik, age 13 - 'A clever plot, master story-telling and vivid locations make it a must-read for any teenager with a sweet tooth for mystery and spy stories.'
Eagle Strike Press Reviews
The series that has re-invented the spy genre Independent
Anthony Horowitz is the lion of children's literature Michael Morpurgo
If you loved this, you might like these...