Old School Review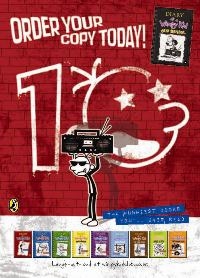 One of our Books of the Year 2015 - November 2015 Book of the Month Old School is number ten in the multi-million-selling Wimpy Kid series and author Jeff Kinney is on very good form. The generation gap is something of a theme in this episode: Greg doesn't understand his parents' conviction that everything was better in their day – he can't imagine a world without baby wipes and his mum's campaign to get people to put away all electronic devices for 48 hours is just embarrassing. When Grandpa move in with them family tensions rise and some very funny scenes result, one involving a party for Grandpa's regiment of on-line girlfriends, another involving Greg's brother Rodrick, a mascot costume, and the police. Things get so bad in fact that Greg chooses to go on the school trip – Wimpy Kid fans will know how out of character that is. Greg's diary entries – words and pictures - are as funny as ever, and this is irresistible reading. ~ Andrea Reece
Old School Press Reviews
Praise for Jeff Kinney:
The world has gone crazy for Jeff Kinney's Diary of a Wimpy Kid. Sun.
Kinney is right up there with J K Rowling as one of the bestselling children's authors on the planet. Independent.
The most hotly anticipated children's book of the year is here - Diary of a Wimpy Kid . Big Issue.
Hilarious Telegraph.