Thud in Trouble Match Four Review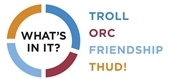 The Wrestling Trolls are BACK, facing nasty bullies and vengeful villains. Here come the Wrestling Trolls with two great new adventures!
A Piece of Passion from Sara O'Connor, Fiction Digital Director Fresh off the wonderful chaos of the third book, where school children helped create the characters featured in the story, this fourth book is seeing those new characters grow and change. My favourite thing about these books is how they show different types of people (and trolls!) getting along in difficult circumstances. It's a feeling I hope young readers will take on board. Differences are good, and help people work together.
Thud in Trouble Match Four Synopsis
Jack, Milo, Robin and Big Rock are back, and they have a new friend with them too - Blaze, the magical phoenix. As usual, the gang are low on money, so they plan to come together as a family and make some serious dosh by taking on notorious bully Buster Gutt. Unfortunately, Buster is even meaner than they thought, and soon poor Jack finds himself and his alter-ego THUD in some seriously hot water...
In the second story, villainous Lord Veto tries to break up the Waldo's Wrestling Trolls family. He plants seeds of doubt in Jack, which sets Milo off and soon Princess Ava is caught in the middle of two very grumpy boys - when they have a wrestling tournament to fight!
The brave Wrestling Trolls troupe must come together for glory once more in this hilarious and heartfelt series.
Visit www.wrestlingtrolls.com for games, news and downloads.
Thud in Trouble Match Four Press Reviews
Kids love to read and a small number of children were lucky enough to be invited to review the first title in the series, Wrestling Trolls: Big Rock and the Masked Avenger. You can read their reviews below.