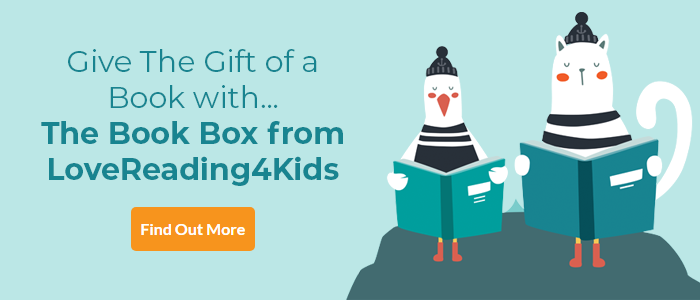 The Shadow Keeper Review
One of our Books of the Year 2016 | March 2016 Book of the Month Fabulous, feisty Moll returns with the ever faithful and courageous Gryff by her side in their quest to save the old magic and stop the Shadowmasks from destroying them. This is a tale of friendship, about finding courage in the darkest of moments and the desire to fight and stand up for those you love and what you believe in.
Abi Elphinstone has a huge talent for storytelling and the influence of well loved fairy tales and stories is clear to see as she expertly creates a tale filled with adventure, peril, mystery and of course magic. This is a fantastic sequel to The Dreamsnatcher and continues a thrilling series that is sure to capture imaginations and have boys and girls, young and old, reaching for their catapults and quivers. Absolutely loved it.
Do read Abi's debut novel The Dreamsnatcher first, it's fabulous and will have you eager for The Shadow Keeper as soon as you've turned the last page. ~ Shelley Fallows
The Shadow Keeper Synopsis
Moll Pecksniff and her friends are living as outlaws in a secret cave by the sea, desperate to stay hidden from the Shadowmasks. But further along the coast lies the Amulet of Truth, the only thing powerful enough to force the Shadowmasks back and contain their dark magic. So, together with Gryff, the wildcat that's always by her side, and her best friends Alfie and Sid, Moll must sneak past smugglers, outwit mer creatures and crack secret codes to save the Old Magic. With more at stake than ever before and the dark magic rising fast, can Moll and her friends stop the Shadowmasks before it's too late?
Perfect for fans of J.K Rowling, Piers Torday and Michelle Paver.
The Shadow Keeper Reader Reviews
Kids love to read and so in addition to our Lovereading expert opinion some of our Lovereading4kids Reader Review Panel were also lucky enough to read and review the first title in the series, The Dreamsnatcher. You can click here to read their full reviews.
Lily, age 11 - 'This book is really mysterious and gripping – I couldn't put it down. The descriptions of the surroundings were very vivid and Abi really makes you care about the characters.'
Joshua Zinkin, age 9 - 'The book was exciting once you got into it but lots of the language was quite difficult.'
Millie Barrett, age 8 - 'I enjoyed the mysteries and cliff-hangers in the book. It is also very detailed so even though there are no illustrations, it creates pictures in your mind!'
Alice East, age 10 - 'What I really liked about this book was that it never became boring as there was always something exciting going on...This book was fantastic and I would give it 8.5/10.'
Sidney Greenslade, age 11 - 'A magical story of mystery and danger, The Dreamsnatcher is full of great personalities and wild landscapes.'
Michelle Toy - 'The keywords that jumped out to me from this book were friendship, family, community and courage...A fantastic, magical debut Children's novel The Dreamsnatcher is a dream to read!'
Corey Yuile, age 9 - 'I am the victim of a dreamsnatch! Love Magic? Love Action and Adventure? The Dreamsnatcher is the perfect read!...5 out of 5 from me!'
Jasmine Harris-Hart, age 12 - 'I liked reading this book even though I didn't get gripped by the plot.'
Cara Anderson, age 9 and 1/2 - 'Very intriguing. It's quite spooky...'
Eleanor Cookdale, age 10 - 'This adventure story is both funny and incredibly scary. I really enjoyed reading the book because it was so exciting and full of twists and turns, and also Siddy was very funny.'
Sophie Bridges, age 12 - 'The Dreamsnatcher by Abi Elpinstone is a good book and the theme is good and the ideas are well thought through.'
Evie Hollingshead, age 10 - 'An exciting book full of suspense that made me want to read until the end!'
Chloe, age 11 - 'This is an exciting adventure about a gypsy girl and her friend, a wildcat called Gryff. It gripped me from the first sentence.'
The Shadow Keeper Press Reviews
Praise for The Dreamsnatcher:
'Powerfully imagined action, dangers and battles. Thrilling for readers of 9+ years' – The Sunday Times
'Atmospheric, packed with drama' – Daily Mail
'A must read' – Daily Express
'A Top 10 Children's Book Not To Miss in 2015' - The Bookseller
'Scintillating story' – Waterstones
If you loved this, you might like these...