LoveReading View on Winnie and Wilbur Meet Santa
A Julia Eccleshare Pick of the Month November 2016 Winnie and Wilbur are so excited to be getting ready for Christmas! There's a lot to do. Putting up the decorations, baking biscuits, making the Christmas pudding and, most importantly of all, sending their letters to the North Pole. At last it is Christmas Eve and Santa's arrival goes very horribly wrong. Luckily, Winnie has just the right magic trick to solve the problem and soon Winnie and Wilbur are on the most wonderful adventure of their lives. There's magic and excitement on every page of this festive book including a delightful pop-up surprise. ~ Julia Eccleshare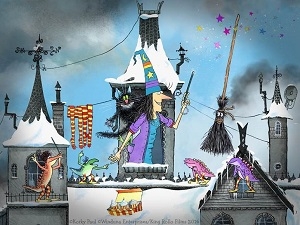 ****Winnie fans will be delighted to hear that the Winnie the Witch stories have been transformed into a children's TV show, which will premiere on Christmas Eve.
Winnie and Wilbur will be airing on Channel 5's pre-school strand Milkshake in 2017, with Katy Brand as Winnie and Bill Bailey playing the lovable cat Wilbur in this brand new animation series.
Bill Bailey says: "Winnie the Witch is already a huge hit with kids all over the world so I'm delighted to bring Wilbur to life. I've got a lot in common with this cat: we're both extremely agile, we both love cheesecake, and given half a chance, we like to fall asleep in a cosy basket."

The UK premiere will be broadcast on Saturday 24 December at 7.50am, when we will be treated to a Wintry Special featuring the episodes Wilbur's Big Clean and Winnie's Tricky Tights.
-------------------------------------------
Julia Eccleshare's Picks of the Month for November 2016
The Song from Somewhere Else by A. F. Harrold and Levi Pinfold

Murder in Midwinter by Fleur Hitchcock
Winnie and Wilbur Meet Santa by Valerie Thomas and Korky Paul
Rover and the Big Fat Baby by Roddy Doyle and Chris Judge
Penguin Problems by Jory John and Lane Smith
The Giant's Necklace by Michael Morpurgo and Briony May Smith
Winnie and Wilbur Meet Santa Synopsis
A fabulously festive story with a spectacular pop-up ending! When Winnie and Wilbur write their letters to Santa they never imagine that they are actually going to meet him on Christmas Eve!
After the crisis of Santa getting stuck in their chimney, Winnie and Wilbur join him on his sleigh in a desperate race against time to make sure children everywhere wake up to stockings filled with presents on Christmas morning. What a magical memorable night! It's a fun and festive Winnie and Wilbur adventure! Korky Paul's intricate artwork is full of madcap humour and crazy details to pore over.
The spellbinding new look of this bestselling series celebrates the wonderful relationship that exists between Winnie the Witch and her big black cat, Wilbur. Since Winnie and Wilbur first appeared in 1987 they have been delighting children and adults in homes and schools all over the world and more than 7 million books have been sold.
Winnie & Wilbur series trailer from Winduna Enterprises on Vimeo.
A Winnie and Wilbur stage show is set to run in Birmingham in 2017 followed by a national UK tour.
There's more Winnie and Wilbur fun & activities to be found at www.winnieandwilbur.com
Winnie and Wilbur Meet Santa Press Reviews
Children will love Korky Paul's highly detailed and playfull illustrations Lancashire Evening Post
A fantastic festive story which includes a spectacular pop up surprise Families Vale of York
Comprehensively festive and freshly served The Guardian
Korky Paul outdoes himself in the latest Winnie and Wilbur picture book - picked as on of the best childrens books for 0-4 year olds. The Sunday Times