LoveReading View on The One Memory of Flora Banks
Shortlisted for the YA Book Prize 2018 | Longlisted for the Branford Boase Award 2018 | One of Our Books of the Year 2017 | January 2017 MEGA Debut of the Month | In a nutshell: the unforgettable story of a girl with no memory
Can there ever have been a heroine like Flora Banks? She's 17 when the book opens, but an accident aged 10 has left her with no short term memory. Then a secret kiss on the beach – with her only friend's boyfriend – lodges in her mind. Inspired, she sets off alone to follow him, a heart-stopping journey that takes her deep into the Arctic landscapes of Norway, scribbled messages she writes to herself on her arms her only reassurance or guide. Flora does find out the truth about the boy and about herself, but she needs all her courage. A unique mix, part coming-of-age, part psychological thriller, with an almost fairy-tale setting, this is a story that readers will want to read more than once, and one they will want to share with friends too. Unforgettable! ~ Andrea Reece
Praise from the publishing team : It's a rare moment when a book comes in that engages our whole team – and with such force. Flora Banks has made us cry and sit up all night, and we are so excited to bring her to readers everywhere around the world. Francesca Dow, Managing Director
Emily's YA debut compels and completely sweeps me up in its atmosphere every time I read it. In addition to clearly being an extremely accomplished and gripping thriller writer, Emily conveys the light and shade of life as a teenager falling in love and coming of age just brilliantly. To pull off a story narrated by a character like Flora is a fantastic achievement. I LOVE THIS BOOK. Ruth Knowles, Publisher
My heart was in my throat from the first line of Flora's prologue – this is psychological suspense at its best. Emily Barr's writing is eerier than an Arctic squall and more beautiful than a serene tundra. Natasha Collie, Senior Marketing Officer
The One Memory of Flora Banks Synopsis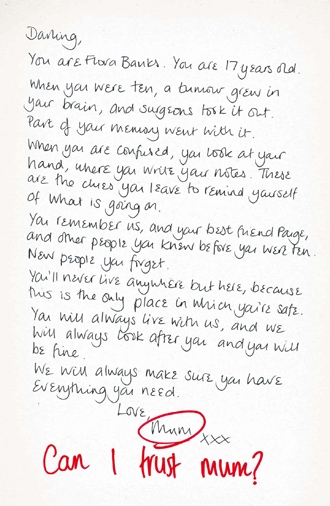 How do you know who to trust when you can't even trust yourself?
Flora is 17 and has anterograde amnesia. She lost the ability to make new memories when she was 10 and has been stuck in her past since. She can't remember anything day-to-day: the joke her friend made, the instructions her parents gave her, how old she is. Then she kisses someone she shouldn't – and the next day she remembers it.

It's the first time she's remembered anything since she was ten. But the boy is gone – she thinks he's moved to the arctic. Could he somehow be the key to unlocking her memory?
A message from Emily Barr : As I've been writing for years and have thirteen books out in the world, I never expected that I'd be announcing a debut all over again.
However, here it is: The One Memory of Flora Banks is my debut book for young adults. I started writing this as a thriller for adults, but as the story unfolded I realised that it was actually something quite different from anything I had previously written.
I wrote it over the course of a couple of years, entirely as a labour of love as I had no idea whether anyone would 'get' it or want to publish it. My fantastic agent Lauren pushed me to make it as good as it could possibly be, and to my absolute delight, Penguin came on board to publish it.
The One Memory of Flora Banks follows Flora, a teenage girl who lives with anterograde amnesia and has to re-remember her life several times each day. The book is set against the backdrop of obsessive first love, with a setting that moves between Cornwall and the midnight sun of the Arctic summer. Although it's a YA book, it's very much a novel for readers of all ages.
I'm now working on my second YA novel, set in Rio, which will also be published by Penguin.
THE ONE MEMORY OF FLORA BANKS Promotional Trailer #1 from Emily Barr on Vimeo.
The new YA sensation you won't be able to forget. The One Memory of Flora Banks is an incredible page-turner of a novel, full of twists and turns, against the backdrop of obsessive first love. It will appeal to fans of We Were Liars and readers of all ages who enjoy gripping commercial thrillers like Before I Go to Sleep.