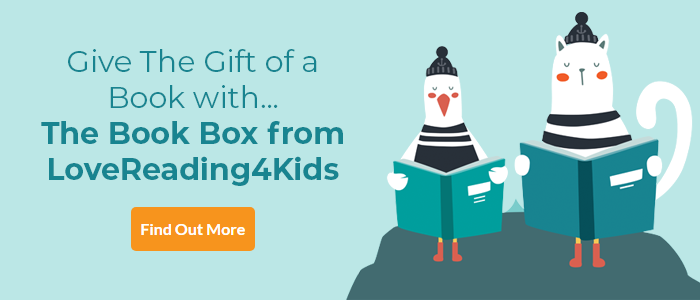 LoveReading View on Hilo: The Great Big Boom
In a nutshell: non-stop cartoon action with real heart | The adventures continue for little android Hilo and his human friends D.J. and Gina, and they are as fast, funny and inventive as ever. Hilo and D.J. have to rescue Gina, who was sucked into a portal in the previous episode, and when they finally find her there's a new world to explore, a surprise reunion with an old friend, and new enemies to take on; new information about Hilo's past comes to light too. Judd Winnick cleverly keeps all the plates spinning, frame after frame. Hilo's adventures are great to look at, and while the action is non-stop, Winnick still finds space for character development and a nice emphasis on friendship too.
For more action-packed, funny space adventures try Steve Cole's Magic Ink books, and for more brilliant cartoon action in colour there's Star Cat and Evil Emperor Penguin from the Phoenix Comic Presents series. ~ Andrea Reece
Hilo: The Great Big Boom Synopsis
When we last saw our INTREPID TRIO, Gina had been sucked into a mysterious portal to who-knows-where. But friends don't let friends disappear into NOWHERE! It's up to D.J. and Hilo to follow her! Will there be danger? YES! Will there be amazing surprises? OF COURSE!
Will Gina end up being the one to save them? DEFINITELY! With the help of Polly, the magical warrior cat, the friends will have to battle bad guys and face disgusting food, an angry mom, terrible knock-knock jokes, powerful magic, and more! Will they survive and make it back to Earth before the portal closes again?
Hilo: The Great Big Boom Reader Reviews
Kids love to read and so in addition to the review by one of the Lovereading4kids editorial experts some of our Lovereading4kids Reader Review Panel members were also lucky enough to read and review the first title in the series, Hilo: The Boy Who Crashed To Earth. You can read their full reviews by clicking here.
Joshua Parcell, age 9 - 'A funny book written in a very interesting format. Hilo is a boy robot with some incredible powers, he has never seen a planet like Earth before!'
Oliver Lonsdale, age 9 - 'Very funny book, absolutely excellent, makes you want to read more.'
Bella, age 9 - 'I loved sharing this book with my Dad he doesn't normally read but we read this in three days.'
Toby Little, age 9 - 'Even though I don't like comic books, I really loved this one. Having a main character who doesn't know anything about himself is mysterious. I can't wait to read it again.'
Lucas Blake, age 6 - 'Holy mackerel, this book is OUTSTANDING!'
Daniel Bisland age 9 and Alexander Bisland age 11 - 'We recommend this book to 6+ comic readers who like superheroes as the book only has a few words and could be read with a parent. We give it 5*****.'
Lewis Briggs, age 10 - 'Possibly one of the coolest books on Earth! It is written in comic form and has a cliff-hanger at the same time.'
Lucy, age 6 - 'This is an adventure story that is written as a comic strip. Hilo is very funny.'
Aidan Wood, age 7 - 'Overall the pictures were colourful, but I'd have liked a bit more description in the story.'
Gianna Smith, age 7 - 'Hilo doesn't know what he is or where he came from. His brain is like a busted book with lots of pages missing and holes. You should read it and it makes you want to read on.'
Iulia Motoc, age 9 - 'Exciting, very easy to read and excellent illustrations, all in one comic style book!'
If you loved this, you might like these...