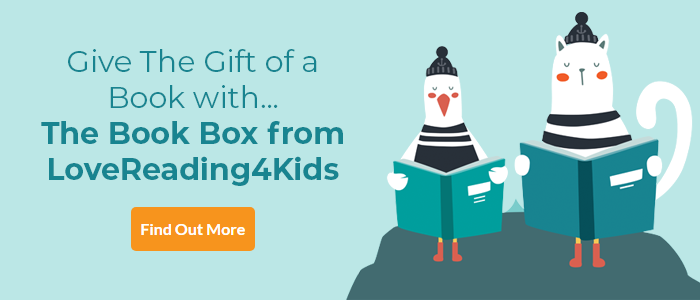 Hamish and the Gravity Burp Review
March 2017 Book of the Month | In a nutshell: original, clever, fast-paced and very, very funny | With no messing about at all, Danny Wallace gets straight into the comedy action in this the third adventure for Hamish and his friends: Hamish comes in to find his mum and brother lying flat on their backs, on the ceiling. Along with a bowl of fruit, six batteries and a wind-up meerkat. Once again the town of Starkley is at the centre of something strange, and it's down to Hamish and co to put it right. Danny Wallace's inventiveness shows no sign of slowing and this is another brilliantly imagined and genuinely exciting caper with the superb comic timing and sharp one-liners we've come to expect. Terrific fun.
For more fast-moving, funny, highly illustrated adventures try David Solomons' My Brother is a Superhero series, or Frank Cottrell Boyce's Sputnik's Guide to Life. ~ Andrea Reece
Hamish and the Gravity Burp Synopsis
Another hilarious adventure from bestselling author Danny Wallace, perfect for fans of David Walliams, Roald Dahl, David Baddiel and David Solomons!
This may look like just a completely and utterly ordinary book. But it's not. This book knows something terrifying: that the people of Earth face their gravest, grimmest threat yet! When Hamish arrives home to find his mum and his brother lying flat on their backs ON THE CEILING, he knows there's something seriously wrong (again) in the town of Starkley. What is the strange burping noise he keeps hearing? Why are weird seeds suddenly falling from the sky? And should he be worried about the odd woman with a cone around her neck? All Hamish and his gang the PDF can be sure of is that an adventure is coming.
And that means two things:
* You have to be prepared
* You have to prepare a sandwich
For more Hamish fun log-on to www.worldofhamish.com
Hamish and the Gravity Burp Press Reviews
'Original, quirky and super silly, Wallace has written a great book that kids - particularly boys - will really enjoy' The Sun
'Wallace's vividly imagined adventure cracks along at a brisk pace. Bristling with one-liners, it has an easy, unforced humour and a strong sense of excitement… Time freezing is a neat device and Wallace uses it skilfully to make almost anything seem possible.' The Guardian
'Like David Walliams, Wallace is a comedian turned children's author. Of the two, Wallace's writing is the funnier.' The Sunday Times, Children's Book of the Week
If you loved this, you might like these...