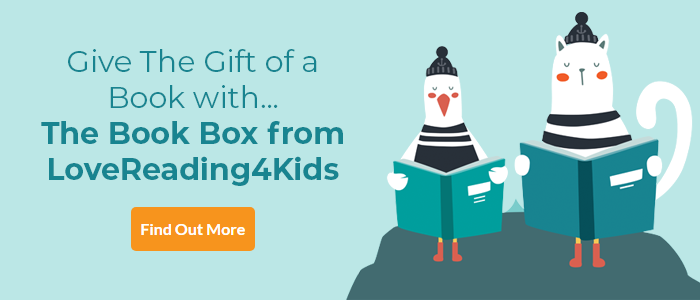 A Far Away Magic Review
In a nutshell: two lonely children, an enchanted house and a magical world
The real world and the magical are cleverly mixed in this exciting story. Angel and Bavar are both orphans, both lonely. She is fascinated by him, the towering boy with a knack for making himself invisible in class. Following him home, she is amazed to see that he lives in a huge mansion, but what she finds inside is even more extraordinary: Bavar's home and family are magic and the spirits of his ancestors still inhabit their portraits, shouting their opinions from the walls. What's more, Bavar is responsible for keeping monsters out of this world, monsters who might have had something to do with Angel's parents' deaths. As much a story of an unusual and touching friendship as it is a tale of monsters and magic this is thoroughly original and full of charm. ~ Andrea Reece
A Far Away Magic Synopsis
A Far Away Magic is the second stunning novel full of magic and friendship from Amy Wilson, author of A Girl Called Owl.
When Angel moves to a new school after the death of her parents, she isn't interested in making friends. Until she meets Bavar - a strange boy, tall, awkward and desperate to remain unseen, but who seems to have a kind of magic about him. Everyone and everything within Bavar's enchanted house is urging him to step up and protect the world from a magical rift through which monsters are travelling, the same monsters that killed Angel's parents. But Bavar doesn't want to follow the path that's been chosen for him - he wants to be normal; to disappear. Fighting one another as well as their fears, Angel and Bavar must find a way to repair the rift between the worlds, and themselves, before it's too late . . .
A Far Away Magic Reader Reviews
In addition to our Lovereading expert opinion some of our Lovereading Kids Reader Review Panel members were also lucky enough to read and review this title. You can read their full reviews by clicking here.

Phoebe Allan - 'A beautifully written tale that shows that even in times of grief, sadness, despair and darkness, friendship and hope can bring you back to the light.'
Bethany Urquhart, age 11 - 'A brilliant story full of brilliance!'
Alexander Bisland, age 12 - 'I recommend this book to 12-13 year olds who love magic and fairy tales. If you like Abi Elphinstone books, you'll enjoy this book. I give it 5*.'
Emily Lonsdale, age 12 - 'This book is spell binding, a whimsical wonder of being unique and will tug your heart strings. I really enjoyed this book.'
Charlie Dunn, age 10 - 'Magic, friendship and family - Angel and Bavar are two very different people who have to close the rift between our world and a magical land. It's an uplifting adventure story of school friends.'
Aminah, age 12 - 'A Far Away Magic is one of the best books I have read.'
Grace Phelan, age 10 - 'In my opinion this book is a fantastic novel filled to the brim with breathtaking moments that will intrigue any child so much that they won't put it down.'
Seren, age 10 - 'It was amazing with lots of twists and turns - I couldn't put it down.'
Mila humphryes, age 10 - 'You could never get more mysterious and magical...While I was reading this book I forgot about the real world. I felt like I became a character in the book. I could imagine them in there in my head.'
Aoibhe Churcher, age 11 - 'This was the first book I read of 2018 and it'll be hard to beat!'
Judith Smith, age 12 - 'This book is full of magic and mystery and interesting plot twists that will keep you on the edge of your seat. Definitely a good choice if you love fantasy stories.'
Kai Bryan, age 11 - 'This is a great fantasy/adventure story about a teenage boy and girl who go on an amazing adventure together. As the story starts to unravel it gets very exciting and makes you want to keep reading.'
Anya Fuller, age 10 - 'This book is full of magic, friendship, monsters and hope. It almost makes you believe they're real…'
Ross O'Gorman, age 11 - 'Magic, monsters and shadows from the past make this a book that's hard to put down. Two lonely teenagers, who both have secrets, gradually become friends and must together fight the darkness.'
Isabelle Jones, age 11 - Dormston Secondary School - 'This book is mysterious, gripping and lets your imagination run wild with its deep and dark storyline.'
A Far Away Magic Press Reviews
Praise for A Girl Called Owl
'A story of wild winds and bitter frosts with the warmth of friendship at its heart' - Abi Elphinstone, author of The Dreamsnatcher
'This debut is a sparklingly frosty read, full of feisty characters, myth and mystery' - Daily Mail
'A winter treat full of frosty magic' - Katherine Woodfine, author of The Mystery of the Clockwork Sparrow
'A perfect read for those who love wintery magic and a strong female character proving her place in the world.' Booktrust
If you loved this, you might like these...