LoveReading View on Guess How Much I Love You
A Julia Eccleshare Pick of the Month February 2018 | One of our special picks for Mothering Sunday
A delightful gift set with a board book and 24 baby cards to record the special moments in your baby's life.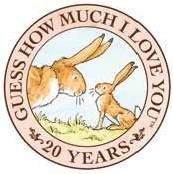 Best-selling and glorious Guess How Much I Love You has delighted children – and adults - for a quarter of a century. Little Nutbrown Hare and Big Nutbrown Hare want to tell each other just how much they love each other. But how do you measure love? Luckily, the two Hare's know just how much they mean to each other. And Anita Jeram's illustrations convey that brilliantly. Julia Eccleshare
Our special Mothering Sunday Picks
Guess How Much I Love You Gift Set by Sam McBratney and Anita Jeram
Something for Mummy by Ted Dewan
Mother's Day by Shirley Hughes
With My Mummy by James Brown
That's Not My Chick by Fiona Watt
Superhero Mum by Timothy Knapman
Me and My Grandma by Alison Ritchie
Julia Eccleshare's Picks of the Month for February 2018

Kevin by Rob Biddulph
My Name is Victoria by Lucy Worsley
Lots: The Diversity of Life by Nicola Davies
A Busy Day for Birds by Lucy Cousins
Words and Your Heart by Kate Jane Neal
The Iron Man by Ted Hughes
Guess How Much I Love You by Sam McBratney and Anita Jeram
No More Kissing by Emma Chichester Clark
Guess How Much I Love You Synopsis
This best-loved board book comes with 24 gorgeous cards for recording important milestones in your baby's life. Simply take a photo of your little one with the card for a beautiful way to capture and share memories.
Guess How Much I Love You highlights the bond between parent and child, and this set is the perfect gift for baby showers, christenings and new or expecting parents.
Guess How Much I Love You is the story of Big Nutbrown Hare and Little Nutbrown Hare, and the adorable game they play to express their love for each other. But the hares soon discover that love is not an easy thing to measure! A new generation of little ones can now enjoy this cherished classic complete with milestone moments cards to capture each magical moment.
On the enduring popularity of his picture book, Sam McBratney said "The choreography of the words is echoed in the drawings, they complement each other so well. There was a good deal of thought put into the design of the book, too," he says. "When you turn that first page and Big Nut and Little Nut are looking out at you, then they take off on their journey. It's a little masterpiece in that way."
For activities, games, newsletters and more, visit www.guesshowmuchiloveyou.com
*** Celebrate over twenty years of sharing love to the moon and back with this fantastic Storytime Event Kit full of ideas for your own Little Nutbrown Hare party with games, suggested activities and a lovely party invite - download it here!