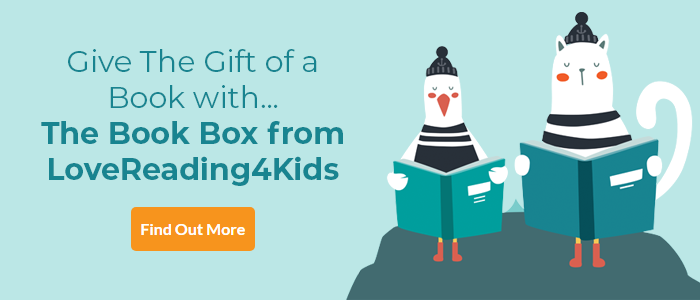 The City of Secret Rivers Review
April 2018 Debut of the Month | Shortlisted for the Branford Boase Award 2018 | In a nutshell: breath-taking magical adventure on the banks of London's underground rivers
Hyacinth Hayward, newly arrived in the UK from the US, is already struggling with culture shock when her mum is kidnapped by the strangest postmen ever and she herself is plunged (literally) into extraordinary adventure. Amongst the mass of magical quest adventures, The City of Secret Rivers stands out and not just because of its cast of fascinating characters (unscrupulous sewer dwelling cockney criminals and a possibly malevolent but extremely polite giant pig included), or its singular setting (the banks of London's underground rivers); the sheer invention and wit of author Jacob Sager Weinstein makes this a special read and every page crackles with originality and energy. Outlandish fun! ~ Andrea Reece
Readers looking for more page-turning adventures that cleverly combine real historical places with rip-roaring adventure will enjoy the Defender of the Realm series by Nick Ostler and Mark Huckerby.
The Branford Boase Judges said : 'clever, so funny, so well controlled'; 'hugely inventive'; 'I thought "I know where this is going to end" – and I didn't'; 'a joyful caper that carries you along'.
The City of Secret Rivers Synopsis
An exciting subterranean London adventure, the first in a middle-grade trilogy. Hyacinth Hayward has recently arrived from America and is having difficulty adjusting to her new surroundings, especially being in the sole company of her eccentric mother. Everything feels strange. Very strange. And it gets stranger the day she accidentally unleashes the power of a secret river running through London.
To prevent a second Great Fire, Hyacinth needs to retrieve a single, magically charged drop of water from somewhere in the city sewer system. Along the way she encounters an eclectic cast of characters - the shambling, monstrous Saltpetre Men who kidnap her mother, the Toshers who battle for control of magical artefacts and a giant pig with whom she has a tea party. The clock is ticking - will she figure out who to trust?
The City of Secret Rivers Reader Reviews
In addition to our Lovereading expert opinion some of our Lovereading4kids Reader Review Panel were also lucky enough to read and review this title. You can read their full reviews by clicking here.
Ella O'Gorman, age 12 - 'An exhilarating magical adventure. Who would have thought that a story set in London's sewers would be such fun and completely riveting. It's packed with twists and turns and non-stop action.'
Toby Little, age 9 - 'I learnt quite a lot about London from the book, and I'll look out for some of the places mentioned in the book, next time I'm visiting London.'
Aoibhe Churcher, age 11 - 'The book was extremely enjoyable! It was exciting, funny,intriguing and action packed. I almost read the book in one day!!!'
Olivia Shaw, age 11 - 'The City of Secret Rivers is an amazing book that will leave you wondering who Hyacinth can trust…Hilarious, gripping and adventurous all in one, it ends with an impossible mystery'
Trinity Sadler, age 13 - 'This book is an enthralling tale where fantasy meets adventure.'
Elizabeth Bridgeman, age 9 - 'The City of Secret Rivers is an extraordinary book...This is a definite favorite of mine and of course an epic 5 stars.'
Isaac East, age 11 - 'This book is packed with action, adventure and a hint of comedy it is an amazingly easy read...I would recommend this book to people who are adventure and half reality lovers.'
The City of Secret Rivers Press Reviews
Readers must willingly suspend belief to follow Weinstein's engaging, fast-paced fantasy, but he makes it worth their while. It's a wild ride that's fun, freaky, outlandish, and suspenseful. Readers will beg for another installment. Booklist
This setup can't help leading to a rollicking adventure with a lulu of an ending that comes with the promise of a sequel. Middle graders will adore clever Hyacinth and enjoy the other humorous characters, the puns (Oaroboarus, indeed), and the suspenseful narrative. Kirkus Reviews
With plot twists and potty humor galore, this is an entertaining read-aloud that should keep even reluctant readers engaged. VERDICT Fans of Suzanne Collins's The Underland Chronicles and Roderick Gordon and Brian Williams's Tunnels series will enjoy this fantastic, funny adventure. School Library Journal
[...] a stonking, rollicking delight [...] the prose sings with effervescence. The Literary Review
I'd also thoroughly recommend Jacob Sager Weinstein's brilliantly funny The City of Secret Rivers Books for Keeps
If you loved this, you might like these...