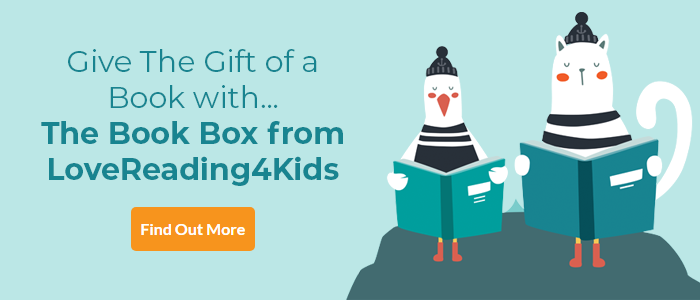 The 104-Storey Treehouse Review
Nutty cartoon strip style comic adventures and unbeatable fun
The higher Andy Griffiths and Terry Denton's treehouse grows, the better. There are few books that reach such levels of absurd comedy and adventure, and the authors' ability to weave the craziest adventures into satisfying plots is phenomenal. As the treehouse reaches 104 storeys, new additions include a stupid-hat level, and a money-making machine that also makes honey. They still have their books to write for Mr Big though, and as always are up against the delivery deadline. But Andy's got toothache and can't laugh because of the pain. Could a Joke Writer 2000™ pencil be the answer to their problems? 104 Storeys and 300+ pages of brilliant, ingenious cartoon adventure.
Other Info
For more hilarious, highly illustrated reads for the under tens, try the Tom Gates series by Liz Pichon; Jim Smith's Barry Loser books; the Timmy Failure series by Stephan Pastis; and Spynosaur by Guy Bass.

We've got some great stuff related to this book in our KidsZone.
Head over there and check it out now.
The 104-Storey Treehouse Synopsis
The 104-Storey Treehouse is the eighth book of Andy Griffiths and Terry Denton's wacky treehouse adventures, where the laugh-out-loud story is told through a combination of text and fantastic cartoon-style illustrations. Join Andy and Terry in their now 104-storey spectacular treehouse. They've added thirteen new levels, including a never-ending staircase, a burp bank, and even a mighty fortress.
But Andy and Terry are in a race against time to find a funny story for their next book - will the tooth fairy, the two-million-dollar shop or even the riddles of the deep-thoughts thinking room be able to help? Well, what are you waiting for? Come on up!
The 104-Storey Treehouse Reader Reviews
Some of our Lovereading4kids Reader Review Panel members were lucky enough to read and review another in this series, The 78-Storey Treehouse. Click here to read their full reviews.
Phoenix, age 9 - 'The 78 Storey Tree House is an amazing book full of adventure. This book has lots of unique characters.'

Isaac East, age 11 - '10 out for 10 for the 78 storey tree-house and Andy Griffiths. This book is packed full of comedy, movie making and a little bit of action.'

Tomasz Hawryszczuk, age 11 - 'This series is one of my all-time favourites. Two boys, a treehouse and lots of cool things to do to occupy their time. Highly recommend this book to boys, especially those who don't enjoy reading.'

Lauren Evans, age 10 - 'This was a quick and easy book to read, was one of those books that helps you to relax and fall asleep. I would recommend it to boys and girls.'

Evie Aconley, age 10 - 'This book was interesting and funny and for those who like adventure. I would recommend this book to boys and girls of all ages.'

Max Chilvers, age 10 - 'This book made me laugh out loud, because of the super silly story and the funny illustrations. I'd like to find out more about Andy and Terry's crazy adventures.'

Alejandra Molina, age 8 - 'This book is funny but sad, as a friendship gets broken. I loved the illustrations and the spy cow!'

Daniel Maxwell, age 11 - 'The 78-storey Treehouse is a good book for young children because it is a great story that children can easily read.'

Lewis Briggs, age 10 - 'Funny, exciting, fantastic! The 78-Storey Treehouse is a comedy book with bags-full of laughter. Definitely a favourite of mine. My favourite part is when Andy accused Terry of stealing his chips.'

Georgie Docwra, age 11 - 'This book has fantastic illustrations and was really, really funny!'

Melissa Broomfield, age 10 - 'This is my first book by Andy Griffiths and now I want to read some of the other books because The 78-Storey Tree House was so funny, strange and exiting.'

Daniel Bisland, age 9 - 'I recommend it to 8+. I give it 5*****. I really found it funny and liked the illustrations.'

Oliver Lonsdale, age 9 - 'This book is the 6th in the series. It was great!'
Elizabeth Bridgeman, age 9 - 'I really like this book. It's about Andy saving Treehouse the Movie from spy cows.'
Mia Goodman, age 10 - 'A hilarious Treehouse tale. The most jokey tale told. The best comic characters ever created. This book has everything. I would recommend this book to ages 6-11.'
Emily Golding, age 9 - 'This book is brilliant! I laughed the whole way through!'
Ellen Cox, age 10 - 'The best book ever! A very, very, very good story it is set out in a good way and I have been intrigued to read some more of Andy and Terry's books.'
Sam Harper, age 12 - 'Told in a mixture of cartoons and words, this book is really, really, really funny.'
Sami Kayali, age 9 - 'This book has lots of fantastic and amazing adventures. It is very easy to read because there are a lots of great pictures. I can't wait for the next book.'
Amina, age 10 - 'I absolutely loved this book full of imagination and drama. The challenge is to find a cow on every page...go ahead read it. Trust me you'll love it.'
Ginebra Ramos, age 9 - 'I really recommend this book because it is so funny!'
The 104-Storey Treehouse Press Reviews
Easy-to-read, visually exciting and wonderfully entertaining, the pace is fast and the fun never stops. Simply brilliant and guaranteed to get even the most reluctant readers begging for more! Lancashire Evening Post
Packed with the sort of zany humour that children can't resist. Parents in Touch
A perfect book for ... Roald Dahl fans The Week Junior
Brilliant series and if you haven't read them yet why not? Start at the beginning and work through them all. Laugh out loud funny and I love reading about all the things they have in their treehouse Toppsta Reviewer


If you loved this, you might like these...