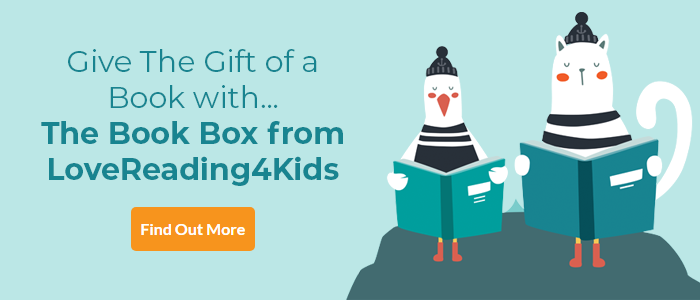 LoveReading View on The Wall in the Middle of the Book
Longlisted for the UKLA Book Awards 2020
Walls are in the news at the moment, and one runs right down the middle of this book, a sturdy brick one dividing each double page, top to bottom. On one side is a little knight, very cheery in his conviction that his side of the wall is the safe place to be. We readers of course can see what's happening on the other side of the wall and indeed, some of the creatures there don't look very friendly. But appearances aren't everything, and when the little knight discovers his side of the wall isn't as safe as he thought, he might need a helping hand over the top. It's a very funny story, and such a cleverly delivered fable of the silliness and dangers of preconceptions. Don't miss.

We've got some great stuff related to this book in our KidsZone.
Head over there and check it out now.
The Wall in the Middle of the Book Synopsis
There's a wall in the middle of the book, and our hero-a young knight-is sure that the wall protects his side of the book from the dangers of the other side-like an angry tiger and giant rhino, and worst of all, an ogre who would gobble him up in a second! But our knight doesn't seem to notice the crocodile and growing sea of water that are emerging on his side. When he's almost over his head and calling for help, who will come to his rescue? An individual who isn't as dangerous as the knight thought-from a side of the book that might just have some positive things to offer after all!
Jon Agee is brilliant in his use of the page turn, visual storytelling, and deadpan humour, and appeals to fans of Oliver Jeffers and Jon Klassen.
The Wall in the Middle of the Book Press Reviews
'A very topical book that will nonetheless be of perennial interest for illustration fans and those looking for a thought-provoking, simple book about relating to others.' Book Trust, Book of the Day
'A timeless message but also one that, in 2018, will surely strike a chord with many readers. (Picture book. 3-6) Kirkus, starred review
'As ever, Agee nails pacing and punch lines. Most satisfying is his gentle reminder that preconceived notions about things and people, over a boundary or otherwise, are often distinctly wrong.' Publishers Weekls, starred review
'A wall keeping out everything on the `unsafe' other side turns out to be a terrible idea for the knight-hero of this funny, winking book.' New York Times Book Review Notable Children's Books of 2018
'A little knight appreciates how a wall protects him from the big ogre on the other side - until he needs a big rescue when his side of the wall floods.' Boston Globe Best Children's Books of 2018
If you loved this, you might like these...