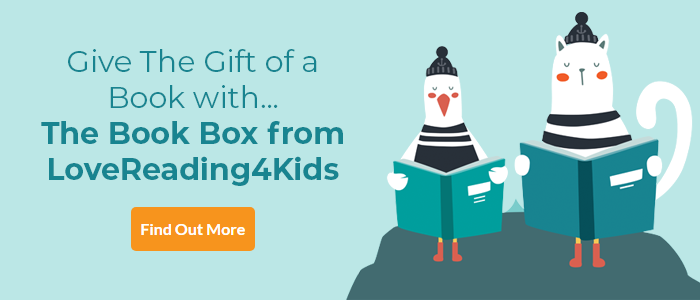 Everdark Review
A glorious tale of adventure, daring and magic
January 2021 Book of the Month
Set in a magical world, this glorious tale of adventure and daring stars the most unlikely heroine because, as the narrator explains, sometimes it takes a story to show that the truly extraordinary people – the ones who defeat monsters and save kingdoms – are often the ones that nobody notices at first. If that statement doesn't make you want to snatch up the book and read it from beginning to end, then you have no heart! Smudge is indeed overlooked – she's clumsy and in her own words 'a bit useless' but somehow, she emerges as the only hope for Crackledown when the evil harpy Morg tries to steal its magic. Fortunately, Smudge is also courageous, inventive and determined – and she has an equally remarkable helper in the shape of tea-drinking, trilby-wearing talking monkey, Bartholomew. Their adventures as they sail beyond the treacherous Northswirl and journey into the heart of the Everdark forest are filled with everything that makes for the best adventures, including magic, drama, narrow escapes, shared laughter and lots of heart. Originally published for World Book Day, Everdark has been reissued in a dyslexia friendly format, which is wonderful news for children like Smudge who struggle with reading and spelling, but everyone should read it.
Everdark is a standalone story but part of Abi Elphinstone's The Unmapped Chronicles series, which are also highly recommended.
Other Info
Published with a dyslexia friendly text design.
What does dyslexic friendly mean?
Simon & Schuster Childrens Books have followed the style guide recommended by the British Dyslexia Society. The book has dyslexia-friendly font throughout (Century Gothic in 12pt) which has as much spacing as possible between words, letters and lines to make it completely readable. The book is printed on thicker, creamier paper (high bulking Enso Creamy 65/140) to prevent show-through.

We've got some great stuff related to this book in our KidsZone.
Head over there and check it out now.
Everdark Synopsis
The stunning prequel to Abi Elphinstone's mesmerising The Unmapped Chronicles series.
Where the map ends, the adventure begins . . . It is midnight in Crackledawn - a midnight full of magic. Sea dragons stir in the depths of the ocean, silver whales surface beneath the moon and sand goblins line the shores. Everyone is waiting for the phoenix, the guardian of the kingdom's magic, to rise up from the forests of Everdark. But there is no sign of the phoenix tonight. Something else surges up out of Everdark instead: a harpy bent on stealing Crackledawn's magic. It is up to an eleven-year-old girl called Smudge and a grumpy monkey called Bartholomew to set sail beyond the legendary Northswirl and stop the harpy before it's too late. So, grab your compass and roll down your sail - the first adventure in The Unmapped Chronicles is about to begin . . .
Everdark Press Reviews
Praise for the Unmapped Chronicles
'A suspenseful and beautifully imagined fantasy that will have a new generation of followers' Telegraph
'As ever, Elphinstone's control of her complex universe is faultless and the thrilling plot is underpinned by a touching, emotional backstory' Daily Mail
'The Unmapped Chronicles recalls CS Lewis and Roald Dahl' Sunday Times
Praise for Abi Elphinstone;
'Imaginative, adventurous and wonderful' Robin Stevens, author of A Murder Most Unladylike series
'The Unmapped Chronicles series is irresistible' Lauren St John
'Abi Elphinstone has created a complete world so believably and effortlessly, I can only marvel' Piers Torday
'Brimming with enchantment and adventure' Catherine Doyle
'Abi Elphinstone is proving to be a worthy successor to CS Lewis' The Times
If you loved this, you might like these...