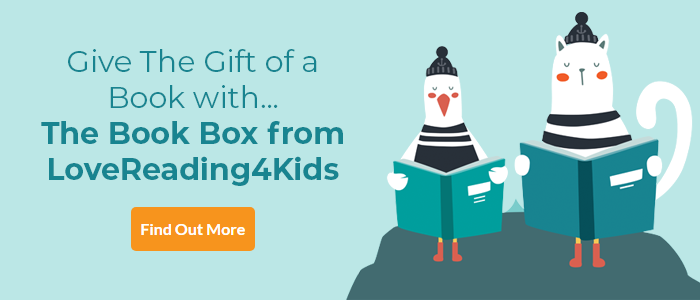 LoveReading View on The Boy I Am
Thought-provoking dystopian thriller about gender roles and abuses of power
March 2021 Debut of the Month | Selected for The Book Box by LoveReading4Kids
Fuelled by feminism, this formidable speculative thriller tackles traditional gender roles and the dynamics of power head on. In fact, it flips the status quo on its head to create an absolute page-turner that's both gripping and inventive, with shades of an alternate The Handmaid's Tale running through its pounding heart.
Jude Grant lives in a post-war matriarchal society in which women hold all the power as a result of men messing-up the world ("Your lot – you men – you destroyed it all"). As a boy, he was born into a life of servitude, raised in the company of Nurse Fathers in the Surrogacy. Now nearing his seventeenth birthday, this is the final year he's eligible to be presented at the Auction. His final chance to become the Ward of a wealthy Tower-residing woman, and the sense of time running out is potently palpable.
In Jude's world, gender roles are the reverse of those in ours. Here at the Auction, boys must smile nicely for the assembled all-powerful women who will determine their fates. Boys who have never seen a woman unmasked because "men can't control themselves, we're told; to look at a woman is to lose our innocence." In Jude's world, it's boys who are subjected to objectification, sexual assault and abuses of power: "A grab here. A grope there. Small belittling moments we're meant to endure, because it's girls being girls. Shouldn't we be grateful? Flattered? And when they don't even know they did anything wrong, what? We're meant to apologise?" If Jude's not selected, he'll be sent to the mines where most boys don't survive a year. Waiting anxiously, he worries that he's too old, too short, too fat. Sound familiar? This is powerful stuff, both in the context of Jude's experiences, and its resonance with the treatment of girls and women in our world. But in Jude's case there's even more at stake, more reason to be picked to be the Chancellor's Ward, for she killed his best friend Vik, and he's set on revenge.
What an impactful, provocative, pacey feat this is, from the author's dexterous unveiling of the brutal world Jude and Vik were born into, to her accomplished translation of a powerful high concept into an edge-of-your-seat thriller.
Other Info
A letter from the author;
I came to this story wondering what kind of feminist I wanted to be. Writing this book helped me process my own experiences from years working in a male dominated industry. There have been so many great times, but they're pierced by moments when some men I worked for reduced me to something to flirt with, dismiss, or sideline when unwanted advances were met with polite declines.
Each moment sticks with me. I over analyze whether I dealt with them the right way, then wonder if there is a right way, then doubt my memory, then beat myself up for taking the burden of anxiety on myself, and so on… Sound familiar? You don't need to be a woman to know these feelings, far from it, they come wherever there is disparity in power. And there's a lot of that today.
The proverb 'absolute power corrupts absolutely' kept circling my mind as I found Jude's story. If we are all equal, are we all equally capable of abusing the power we have? If so, how do we choose to be better?
See, I told you I over analyze.
From where it began, soon my research took me to some places full of sadness: To forums teaching men how to manipulate women, where young men believe their worth is only in relation to their ability to be with a woman, or where they are radicalized and pressed into dark causes to compensate. To charities raising awareness of the hidden problem of child marriage for both girls and boys in a world where thirty seven countries have no real minimum age of marriage, including the USA, and where the rules can be exploited, not only for straight and cis people, but often to force young LGBTQI people into marriage.
I saw the worst extremes of both gender rights movements and questioned my own identity and beliefs. But…
And it's a really important but…
I came out the other side with hope because of people I met along the way, working together despite their differences: activists for gender diversity and equality, for disability and antiracism. I also came out with the comfort that things are, slowly, getting better. But it will take all of us working together to stop them from getting worse. The realization I came to is that I am an unfinished feminist. And that's how I want to be, always learning about the power I have, the systems I am a part of, and how I can work with those around me to strive for a better, more compassionate world. I hope your journey of discovery is as powerful as mine.
K.
The Boy I Am Synopsis
They say we're dangerous. But we're not that different.
Jude is running out of time. Once a year, lucky young men in the House of Boys are auctioned to the female elite. But if Jude fails to be selected before he turns seventeen, a future deep underground in the mines awaits.
Since the death of his best friend at the hands of the all-powerful Chancellor, Jude has been desperate to escape the path set out for him. Finding himself entangled in a plot to assassinate the Chancellor, he finally has a chance to avenge his friend and win his freedom. But at what price?
A speculative YA thriller, tackling themes of traditional gender roles and power dynamics, for fans of Malorie Blackman, Louise O'Neill and THE POWER.
*** The Boy I Am contains content some readers may find triggering, including sexual aggression, trafficking, murder and surgical procedures.
The Boy I Am Press Reviews
A fantastic, thought-provoking, heart-thumper of a book. - Charlotte Teeple Salas
Brutal, uncompromising and edge-of-your-seat action all the way through - Alex Bell, author of Frozen Charlotte
The best kind of up-all-night dystopian YA, thought-provoking, different and above all, an extraordinarily exciting story, whose main character, Jude, will stay with me for a very long time Lucy Coats
It's a gutsy, intelligent, tension-building tale. A bit Handmaid's Tale, a bit Mad Max, and a creature all its own. Sinead O'Hart, author of The Eye of the North
Mind blowingly good. Love it. It's going to get readers thinking. Dr Vanessa Harbour
A dark, thought-provoking dystopian that is gorgeously written too Amy McCaw, author of Mina and the Undead
It's so gripping and tense and thought-provoking Ben Oliver, author of The Loop
If you loved this, you might like these...