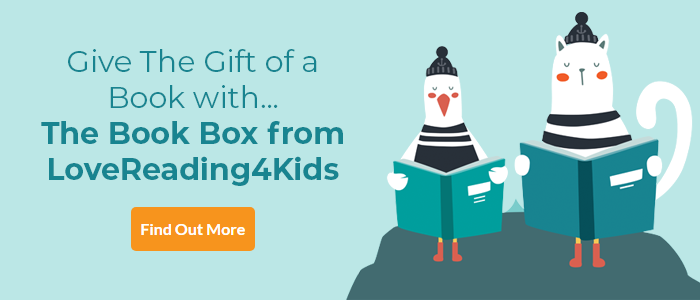 The Supreme Lie Review
Corruption, fake news and environmental disaster are at the centre of this darkly comic adventure
Longlisted for the UKLA Book Award 2022 ages 11-14 | May 2021 Book of the Month
Despite being set in the 1920's in the imaginary country of Afalia, this stunning and inventive story, from twice Carnegie medal winning author McCaughrean, has powerful messages about the current state of politics, big business and environmental exploitation in our world and most loudly of all about the need for reliable and independent news sources. The story is partly revealed by facsimile newspaper cuttings and it is fascinating to see the progression from real information to manipulation of popular opinion by ruthless and deadly corrupt officials. Gloria, a naive 15-year-old maid to the Suprema, Alfalia's ruler, is at the heart of the story. As flooding and disaster threaten to overwhelm the country, the Suprema runs away, and Gloria is inveigled by the Suprema's husband into temporarily impersonating her. As they discover the full extent of the corruption and misinformation, they face an uphill battle to save lives and stand up for what is right. Meanwhile a second narrative follows the fate of people in the neglected North (in another real life parallel) and a dog's epic quest to find his boy. The canine conversations are just one of the pleasures provided in this multi-layered narrative populated by such a vivid cast of characters and with so many twists and turns keeping the reader enthralled. Ultimately the novel demonstrates the resilience of man and nature and the ability of people to do the right thing given half a chance. This really is vintage McCaughrean and highly recommended.
As our Guest Editor on LoveReading4Kids, Geraldine McCaughrean tells us more about The Supreme Lie and her other brilliant novels.
Other Info
Geraldine says of The Supreme Lie, "Have you ever wondered, during the last year: 'Are the Government telling us everything?' 'Are the papers trying to scare us?' 'Are they making things up?' They're probably not. But there have been times when statesmen told lies, when newspapers invented the facts, when promises were worthless and, as a result, a lot of people died. I read of one such scandal that took place in America in the 1920s, and I set about designing a fictional country where imminent danger threatens, panic is everywhere, and the truth is hard to come by."
Anne Finnis, Fiction Deputy Director, Usborne says "Geraldine never ceases to surprise with her incredible imagination and ability to find a totally unique story to tell, and this blistering new novel is no exception. What remains constant in her writing however is her ability to create totally relatable characters, her complete and utter mastery of the English language, offering up some of the most glorious sentences I've ever read."

We've got some great stuff related to this book in our KidsZone.
Head over there and check it out now.
The Supreme Lie Synopsis
Multi award-winning author Geraldine McCaughrean has written her most timely and acutely prescient novel to date. The Supreme Lie, set in a world paralysed by natural disaster and dangerous politics, tackles contemporary themes about governments lying in the face of a disaster, how easily ordinary people can be manipulated through fear and how the media can be controlled to suit those in power.
Fifteen-year-old Gloria is maid to Afalia's tyrannical Head of State, Madame Suprema. When the country is hit by unprecedented flooding, Madame Suprema runs away, fearing she will be blamed for the crisis. To cover up this cowardly act, Gloria is made to step into Madame Suprema's shoes and is thrust into a world of corrupt and desperate politicians. As Gloria becomes aware of the forces toying with her every move, she must take decisions that could save, or end, thousands of lives - including her own...
The Supreme Lie Reader Reviews
In addition to our Lovereading4Kids expert opinion some of our Reader Review Panel were also lucky enough to read and review this title. You can click here to read the full reviews.
The Supreme Lie Press Reviews
The mind of Geraldine McCaughrean is one of the great natural wonders of our universe. - Philip Reeve, author of Mortal Engines
A stunning new novel by one of our finest writers for the young. - Tim Bowler, author of River Boy
Unusual, compelling, ambitious; a visual feast of the imagination. - John McLay, Literary Scout
A vintage McCaughrean to savour! - Joy Court, UKLA & The School Librarian
Extraordinary, rich and wonderful! - Julia Green, author of The Children of Swallow Fell
If you loved this, you might like these...