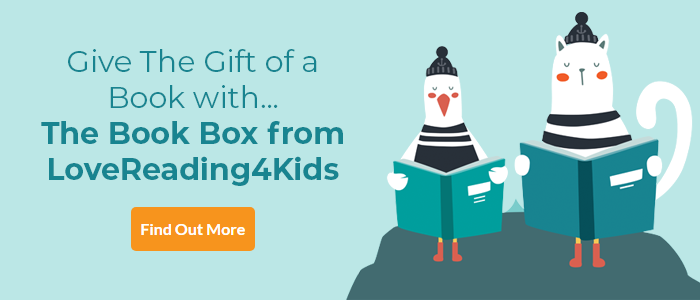 Julia and the Shark Review
A story that is lyrical and empowering as well as profound
A Julia Eccleshare Pick of the Month March 2022
Award-winning Kiran Millwood Hargrave tells a story of great power and significance with incredible sensitivity and writerly skill. By drawing on both, Julia and the Shark is magical, imaginative and mysterious while also dealing with complex emotions and situations.
Julia and her parents take off from their home in Cornwall to live in a lighthouse on Shetland. Her father is working on fixing the lighthouse light while her mother is determined to explore the wide and very cold seas to find an elusive Greenland shark. While Julia's father is practical, methodical and minds about numbers, Julia's mother minds about words and about the scientific research she is so passionate about. While Julia begins to make friends with the few other children around, her mother becomes more and more absorbed in the search for the shark. Nothing will stop her - not the danger and not the cost. Julia wants to help her mother to fulfil her dream but she also knows that there is something irrational, uncontrolled and deadly dangerous about what she is planning to do.
How Julia tries to keep hold of her mother is an emotional rollercoaster. Kiran Millwood Hargrave explores the confusing effect of a parent's deteriorating mental health in a story that is lyrical and empowering as well as profound.
Other Info
Julia Eccleshare Picks for March 2022
Cameron Battle and the Hidden Kingdoms by Jamar J. Perry
Beyond Belief by Alex Woolf
The Stolen Prince Of Cloudburst by Jaclyn Moriarty
Ada and the Galaxies My Alan Lightman and Olga Pastuchiv
Julia and the Shark Kiran Millwood Hargrave
The Secret of Splint Hall by Katie Cotton
Kiran Millwood Hargrave and Tom de Freston said: 'From the moment Julia and the ancient shark that comes to obsess her surfaced, we knew we'd found the perfect story to explore the things that truly matter to us: the complexities of family, the transformative power of friendship, the impact of mental illness, and the lure and healing wonder of the world's wildest places. Julia and the Shark is the book of our hearts.'
Julia and the Shark Synopsis
A captivating, powerful and luminous story from a bestselling, award-winning author about a mother, a daughter and the great Greenland shark.
The shark was beneath my bed, growing large as the room, large as the lighthouse, rising from unfathomable depths until it ripped the whole island from its roots. The bed was a boat, the shark a tide, and it pulled me so far out to sea I was only a speck, a spot, a mote, a dying star in an unending sky...
Julia has followed her mum and dad to live on a remote island for the summer - her dad, for work; her mother, on a determined mission to find the elusive Greenland shark. But when her mother's obsession threatens to submerge them all, Julia finds herself on an adventure with dark depths and a lighthouse full of hope...
A beautiful, lyrical, uplifting story about a mother, a daughter, and love - with timely themes of the importance of science and the environment.
Julia and the Shark Press Reviews
Captivating - The Telegraph
A tale of courage, understanding and compassion - The Observer
A triumph - The Daily Mail
Illustrated with dreamlike fluency - The Observer
Beautifully written, sensitive exploration of mental illness, fear and families - The Daily Mail
A truly beautiful book, with text and illustrations in perfect harmony. A book to treasure! - Jacqueline Wilson
Julia and the Shark is deep, beautiful and true. The art shines and the writing soars. A classic from cover to cover. - Eoin Colfer
There are no wasted words in this book. Like a seashell, or a flying bird, it is uncluttered and vital. The illustrations, by Tom de Freston, are mesmerising. I loved it. - Hilary McKay
Tom de Freston's stunning illustrations perfectly complement the poetry of Kiran Millwood Hargrave's story - Cressida Cowell
A rich, immersive and wondrous journey, through deep darkness to hope and light - Sophie Anderson, author of The House with Chicken Legs
What a gorgeous book - calm, funny, heartfelt, wise, full of the quiet and force of the sea - Ross Montgomery, author of The Midnight Guardians
I fell in love with the tale itself, the setting (I do love a lighthouse!), the characters and the little details - it's a beautiful, forceful storm of a book - Emma Carroll, author of Letters from the Lighthouse
INCREDIBLE. Poignant and lyrical and beautiful, it's my favourite of Kiran's books so far and that is saying something. Tom's stunning artwork just brings it to a whole other level - Cat Doyle
Truly extraordinary. Julia and the Shark is contemporary MG at its best but with a hint of the fantastic. It is the kind of book that you will want to have on your shelves and treasure - Katherine Webber Tsang
A beautifully written, moving exploration of family, friendship and mental health, with exquisite illustrations by de Freston - Irish Independent
If you loved this, you might like these...