LoveReading View on FLIPS: Cathy Cassidy (Nintendo DS)
Friends and relationships are the hallmarks of Cathy's stories as she portrays her characters and their friendships particularly well. The plot lines are easy to get into and there's often a subliminal message too within the story. They're cracking, fast-paced easy reads for 9+ year olds. Full of lots of interactivity this great new way for kids to read using their Nintendo DS™ enables the reader, in this Cathy Cassidy FLIPS title, to spot the animals, flowers, fish, stars and fruit hidden within the pages and collect them all to unlock jokes, activities, games and recipes to try out with friends.
Hold your DS like a book, use the stylus or your finger on the touch screen or the direction buttons to turn the pages. Click on links to pop up extra content such as character information and take part in quizzes at the end of chapters to find out more about your personality. You can even share a chapter with friends using the DS™ wireless connections and unlock more bonus content.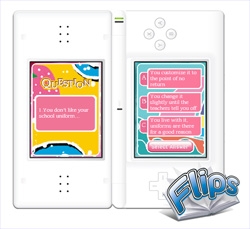 Cathy Cassidy, one of the launch authors for FLIPS said:
'It's fab to see my books come to life in a whole new format giving readers the choice of how they read my books. Friends are really important to my readers and one of the key features of the FLIPS range is that you can share a chapter with your best friends as many times as you like – how cool is that?"

Cathy Cassidy books in launch FLIPS title (6 books): Scarlett, Angel Cake, Sundae Girl, Shine on Daizy Star, GingerSnaps, Driftwood.
These 6 titles are also featured on Lovereading4kids in traditional paperback form. Just click here to view them
FLIPS: Cathy Cassidy (Nintendo DS) Synopsis
Other titles available in the Nintendo DS™ FLIPS range include:
- Enid Blyton's Faraway Tree Stories
* please note due the nature of the products we cannot accept returns
FLIPS: Cathy Cassidy (Nintendo DS) Press Reviews
'FLIPS is a brilliant way of getting children into reading who may love their DS but may not normally pick up a book. At Egmont we are passionate about bringing stories to life for children, so the development of new platforms for reading are incredibly exciting for us. We are proud to be at the heart of this innovation and thrilled to be a part of this first collection bringing authors such as Enid Blyton to the digital world, and encouraging more children to take up reading for pleasure rather than seeing it purely as part of their homework.' - Cally Poplak, Director, Egmont Press

'FLIPS offers a great way to bring books to life on a platform that is incredibly popular with kids. With multiple books on each game card, FLIPS makes a great value gift for children of all ages.' - Keith Ramsdale, VP and General Manager, UK, Ireland and Nordics for Electronic Arts

'Our job as publishers is to bring authors' work to as many readers as possible and we are increasingly looking at platforms other than the book to do this. So it's incredibly exciting to be working with Electronic Arts to bring some of the best writing for children to one of the bestselling devices in the world.' - Jeremy Ettinghausen, Penguin Digital Publisher