LoveReading View on Flips: Percy Jackson (Nintendo DS)
Half Boy. Half God. All Hero. Join Percy Jackson as he teams up with other demigods to battle mythical foes! Young Percy Jackson goes off on a quest to help his real father, Poseidon, avert a war among the gods. With the help of his friends, Percy must journey across the United States to catch a thief who has stolen the original weapon of mass destruction - Zeus' master bolt. Along the way, they face a host of mythological enemies determined to stop them.
Featuring on this game card you'll find 5 Percy Jackson interactive books by Rick Riordan - The Lightning Thief, The Sea of Monsters, The Titan's Curse, The Battle of the Labyrinth, The Last Olympian, plus plus 2 extra books including The Demigod Files

Collect coins to unlock info in the bestiary and in the family tree of the Greek Gods! – Coins can be discovered throughout the books. Once collected, coins can be spent in either the bestiary or in the family tree. The bestiary provides pictures and information about each of the monsters. The family tree shows the relationships between the God's and Demi-Gods, as well as providing extra information from The Penguin Dictionary of Classical Mythology
Touch links to see interesting facts - get quick reminders on who each of the Greek Gods are.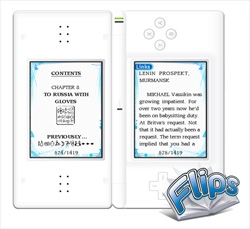 Share a chapter with your friends – Use the DS wireless connections to share a sample chapter and unlock bonus content!
Hold your DS like a book, use the stylus or your finger on the touch screen or the direction buttons to turn the pages. Click on links in the text and character profiles, location details and extra information pops up. You can even share a chapter with friends using the DS wireless connections and unlock more bonus content.
Flips: Percy Jackson (Nintendo DS) Synopsis
The Percy Jackson series by Rick Riordan exclusively for your Nintendo DS!
The gods of Olympus are alive in the 21st Century. They still fall in love with mortals and have children who might become great heroes, but most of these children meet horrible fates at the hands of monsters. Only a few learn the truth of their identity and make it to Half Blood Hill, a Long Island summer camp dedicated to training young demigods.
* please note due the nature of the products we cannot accept returns