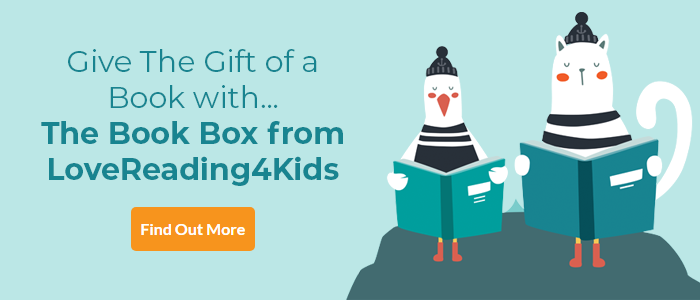 A Boy and a Bear in a Boat Review
Winner of the Branford Boase award this quirky debut is a perfect mix of words and illustration and a genuinely heartwarming story
Winner of the Branford Boase Award 2013, the CILIP Carnegie Medal 2013 & the Costa Children's Book Awards 2012
An amazing adventure follows when a boy takes what he thinks will be a short ride in a boat with a boy. But the ride is not a short one… Soon, the boat is in the middle of an empty sea and the bear is struggling with a map and searching the horizon with a telescope. Luckily the boy has brought some food with him as together, the boy and the bear deal with impenetrable mist, a terrifying sea monster and even the remains of a disgusting sandwich in this humorous and gentle journey of survival and self-discovery.
Other Info
A review from one of our readers, Katie W This book I gave a 5/5 because I couldn't stop reading it. I thought it was really good and if you haven't read it yet then you really need to!!!!!!
.....................................................
The Brandford Boase Award is given annually to the author of an outstanding debut novel for children - for the full list of the seven shortlisted titles please click here.
One of the judges was our own Lovereading reviewer, Julia Eccleshare; she said, 'The UK children's book market is flourishing and the 2013 shortlist was extraordinarily strong, even so A Boy and a Bear in a Boat stood out: the judges loved it for its originality, for the unique way it tells its story. We all agreed we had never read anything like it.'
A delighted Dave Shelton said, 'I am especially delighted to win the Branford Boase Award because of the way it draws attention to the important role of the editor in the writing process, especially in the case of first novels. Having rather drifted into writing, after starting out purely as an illustrator, I had genuine doubts as to whether I would fall flat on my face when faced with the fabulous opportunity of writing my first children's novel. David Fickling's gentle editorial hand ensured I never quite lost my balance. It felt like a team effort to make the book so I'm thrilled that this award reflects that. Though obviously I'll be keeping all the money for myself.'
What the Judges thought....
"A very interesting voice. Absolutely new in terms of what's being offered to younger audience."
"An amazing debut novel, almost hypnotic … philosophical … it allows children to find the voice as it's being read out loud to them. An astonishing piece of work."
"A unique voice and maybe because of his background as a graphic artist, he's found a different way to use language"
"Cognitively multi-dimensional story-telling"
"I was charmed by it … quirky, fun, and the story is so well told."
"The more you read it, the more you enjoy the language."
A Boy and a Bear in a Boat Synopsis
A boy and a bear go to sea. Will the Harriet, their trusted vessel, withstand the violent lashings of the salty waves? And will anyone ever answer their message in a bottle? Brilliantly funny and tender, this beautiful book maps the growth of a truly memorable friendship and tells the story of how, when all becomes lost, the most unexpected joys can be found.
Rich in atmosphere and gently humorous, this is a delightful small-scale but epic adventure. A book to savour.
A Boy and a Bear in a Boat Press Reviews
'A Boy and a Bear in a Boat is a joy to read: slightly surreal, funny, a little bit scary. It's about friendship and trials but also simply about indulging your imagination... I just can't imagine what more you could want.' - The Bookbag
Rich in atmosphere and gently humorous, this is a delightful small-scale but epic adventure . . . A book to savour" Julia Eccleshare
Very special Guardian
Just occasionally, a gentle funny little book pops up in which the story, tone, illustrations and even cover are so perfectly attuned to each other, and to the children for whom it is intended, that it lifts one's spirits. This is such a book Sally Morris The Daily Mail
A charming journey of discovery at sea for eight year olds and above Lorna Bradbury The Daily Telegraph
One of the most original children's books I've ever read Philip Reeve
If you loved this, you might like these...