LoveReading View on Chameleon Chaos (S.W.I.T.C.H. 8)
Sizzling adventures happen when twins Josh and Danny swap places with a host of fascinating animals. Armed with the secret spray given to them by Petty Potts, the brilliant and eccentric scientist, Josh and Danny can get out of all kinds of fixes by turning into something else. As lizards, chameleons, turtles, geckos and anacondas the boys discover first hand dangers and the excitement of living in someone else's skin.
Petty Potts, scientist extraordinaire, is losing her touch. The spray that's supposed to SWITCH Josh and Danny into chameleons refuses to work. But the next day, at school, things get VERY weird. Looks like Petty's spray has worked after all. And it shows no sign of wearing off any time soon ...
Author Ali Sparkes is the winner of the Blue Peter Book of the Year Award and illustrator Ross Collins is winner of the Royal Mail Book Award.
Click here for the S.W.I.T.C.H. series website with games, activities and competitions.
Chameleon Chaos (S.W.I.T.C.H. 8) Synopsis
Petty Potts' most recent reptoSWITCH spray doesn't seem to be working ...not that Josh and Danny were all that excited about being chameleons anyway - alligators would be way better! Plus, they're distracted by the mystery of who is sending them clues to find marbles filled with scientific code. But at school the next day, time seems to be going too fast for the twins, and when one of Danny's eyeballs rolls right round in its socket, they know things are getting weird. While Danny is distracted by the leafy coolness of his teacher's pot plant, Josh is causing a stir in PE, escaping the class bullies by climbing right up to the top of the gym ropes! How long will it be before the boys are boys again? And will they be able to find the next marble (and get their own back on those bullies) in the meantime?
Each S.W.I.T.C.H. book has an activity section at the back with quizzes and games.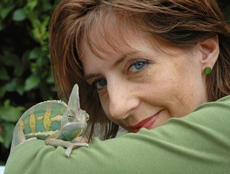 Ali Sparkes with chameleon
Chameleon Chaos (S.W.I.T.C.H. 8) Press Reviews
Praise for SWITCH:
'This book has helped my son, 5, move on from picture books at bed time to one with more words. An excellent choice for reluctant readers who will be thrilled at the idea of turning into a bug, mad inventors and lots of adventures.' Parent
'The book is great fun and involves the reader, who really feels as though they are part of the story. Along the way the reader learns a surprising amount about pond life.' www.parentsintouch.co.uk
Praise for Ali Sparkes's Frozen in Time, winner of the Blue Peter Book of the Year Award:
'I know now what they mean by a plot that is toe-curlingly good ... brilliantly inventive and rollicking fantastical adventure' - Bookbag

'Frozen in Time shows [Ali's] skill at fusing traditional children's storytelling with modern tales ... Sparkes's sci-fi conspiracy thrills will keep 21st-century kids transfixed' - Books Quarterly

'It was outstanding. It blew me away' - Jamie Fenlon, judge on the Blue Peter book award panel
If you loved this, you might like these...