Constable and Toop Review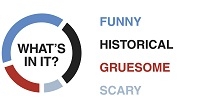 Funny, gruesome and scary, with the great setting of a funeral parlour, this is an action packed adventure full of the darker and dirtier details of life in Victorian London. Sam's father buries the dead which maybe why they find it so easy to get in touch with Sam. But something has gone badly wrong with the the trip from one side of the world to the other. A deadly virus is trapping ghosts in the world of the living. Sam has to use all his powers to sort the muddle out.
Gareth's written a spooky song to go along with his book, and you can listen exclusively to it here.
Constable and Toop Synopsis
Sam Toop lives in a funeral parlour. While his dad buries the dead, Sam is haunted by their constant demands for attention.


Trouble is afoot on the 'otherside' - there is a horrible disease that is mysteriously imprisoning ghosts into empty houses in the world of the living. And Sam is caught in the middle.
Constable and Toop Press Reviews
'An extraordinarily witty story that accurately depicts the lives of the dead and compellingly describes the death of the living.' The Ghost of Oscar Wilde

'As with its London setting, this book contains all that life can afford and all that death will allow. I thoroughly recommend it to all readers. the living and the dead alike.' The Ghost of Dr Johnson

'There were many moments during the reading of Mr Jones' thrilling talw that I would undoubtedly have held my breath with excitement had there been any breath in my lungs to hold.' The Ghost of Mary Shelley

'I wish I had written this story.' The Ghost of Charles Dickens

And if you want to know what the ghosts of Sir rthur Conan Doyle, Emily Bronte, Henry James, Jane Austen, Samuel Pepys and Edgar Allan Poe thought about it, you'll have to get the book!