LoveReading View on Maggot Moon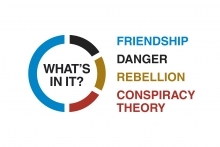 Winner of the two most prestigious children's book awards - the CILIP Carnegie Medal 2013 and the Children's Costa Award 2012. And Longlisted for the 2013 Guardian Children's Fiction Prize Sally Gardner tells a story that is rich in drama and ideas as Standish Treadwell, an unlikely hero, takes on the vicious forces of the repressive motherland in a novel set in a bleak world that is redeemed only by the very human qualities of some of the survivors. Standish and his remarkable grandfather keep going, eking out a living after the disappearance of Standish's parents. Standish struggles at school and is the victim of relentless bullying. But then he finds a friend in the newly arrived Hector. When Hector is taken, the only hope lies in Standish…Luckily, Standish has just the qualities that are needed. September 2012 Book of the Month.
CHECK OUT SOME REVIEWS FROM TEENAGERS IN THE REVIEW SECTION FURTHER DOWN THIS PAGE
Author Sally Gardner said, "Maggot Moon is the book I always wanted to write and Hot Key Books is the perfect home for it."
Sarah Odedina of publisher Hot Key Books added: "Sally is a writer of great and unique originality. In Maggot Moon she has created a brilliant, nerve-wracking and utterly gripping fable that will hold readers spellbound. Standish is a fabulous character and his purpose and adventure will resonate with readers of all ages. It is a novel that will be read, talked about and admired well into the future."
Maggot Moon Press Reviews
In August 2012 Lovereading4kids asked our teen members and browsers whether they would like to review this title ahead of publication. We had lots of requests to do so and a number of lucky readers were selected and were sent a copy. Below you can find out what they thought:
'Maggot Moon is definitely the best book I have read this year. It is thought-provoking, a quality that is very rare in popular teen-fiction, and very entertaining, although on a more distressing level. I absolutely loved it and cannot commend it more highly. Absolutely superb!' Fabbiha Choudhury - Click here to read the full review.
This totally original story is brilliant from beginning to end and each gripping chapter urges you to keep reading.' Josh Travers - Click here to read the full review.

'Maggot moon is told in a fantastic way: making you put yourself in Standish's shoes, making you feel eerie...I would recommend this to people who like danger, mystery and friendship through all odds.' Izzy Read - Click here to read the full review.
'It caused me to question things that I take for granted, and think about things that I'd never thought of before. I feared, cried, hoped, and most of all, dreamed alongside Standish until the end. It haunted me for long after I put the book down. An unforgettable read.' Alice D'Angelo - Click here to read the full review.
'I would recommend this book to anybody who enjoyed the Hunger Games minus the romance, as this book has the same ingredients (loyalty, rebellion and friendship) without the love story of a male and a female, but the love story of a blossoming friendship between Standish and best friend Hector, which makes for a beautiful story and a fascinating read.' Hannah Glenton - Click here to read the full review.
'The short chapters, designed to appeal to dyslexic readers, give the story a punchy feel and makes its impact all the more powerful. At times it is heart-breaking, painful to read...but ultimately it is a raw and real tale of friendship, courage and hope.' Jenny Duffy - Click here to read the full review.
'This book is not for the lily-livered and faint-hearted...although short, it is definitely a thought-provoking book. Dystopian-lovers will like it!' Khadijah Ahmed - Click here to read the full review.

'Overall, I loved Maggot Moon. If you enjoy unique, original and books that will leave you awe-struck then this is the book for you!' Zoe Crook, owner of Bookhi - click here to read the full review.

'I loved Maggot Moon, I had a feeling I would because I love a good conspiracy theory but blend conspiracy with friendship, family and a lovable 15 year old boy who can't even read or write and you get an amazing story.' Raimy Greenland blog readaraptor.co.uk - click here to read the full review.

'if you're looking for something a little different and want to be blown away, pick up Maggot Moon.' Jessica from Booked Up! bookedupbloggers.blogspot.com - click here to read the full review.
'At the beginning of the book I must admit that I found Standish quite hard to understand at first and felt that his character was complicated; as I continued to read I soon realised that his relationship with Hector is a very deep one which progresses throughout the text.' Jhaneel - Click here to read the full review.
----------------------------
"A writer who has found a new and very distinctive voice. I can't wait to see what she will do next". - Mary Hoffman on The Double Shadow
'Dazzling, chilling, breathtaking. MAGGOT MOON is, quite simply, a perfect book.
' - Meg Rosoff, award-winning author of HOW I LIVE NOW

'This novel will just blow you away...Such a beautiful read...this certainly has the potential to become a modern classic. It is wonderful to read such a moving, original book intended for the teenage market.' - The Bookseller