The Tower Bridge Cat Synopsis
An award-winning adventure story set at Tower Bridge. While the crowds are waiting for The Queen to pass under the bridge in her Royal Barge Bella, the Tower Bridge Cat notices a London bus is heading across the opening bridge. She has to act quickly to help Babs the Bus Driver save all the bus passengers, and the day. We watch the bus fly over the opened bridge and enjoy a beautiful firework display over the Thames at the end. The story gets its inspiration from the true story of the number 78 jumping over the opening Tower Bridge in 1952. The Tower Bridge Cat won Best Children's Publication at the ACE Product Awards 2019.
The Tower Bridge Cat Press Reviews
The Tower Bridge Cat. Celebrate the launch of a children's classic in the making. The Londonist; Beautiful illustrations and a great tail. I love this book! Visually very appealing, a true story with a twist, fabulous and so totally impossible to resist. Judge for the Association for Cultural Enterprises; Our boys love this book! It's the story of Bella the cat who lives at Tower Bridge and helps the staff all get ready for the Queen's Birthday. My eldest insists on having this book read at least twice every night. It's written in a clear and engaging way which keeps the children gripped and interested. Amazon; Great little tale and the cat is adorable! Facebook; Wonderfully written and a great read! Facebook; I really liked this book. I liked that it had facts about Tower Bridge, and that it's set from the cat's point of view. I liked the alliteration on the names of the people. Facebook
About Tee Dobinson, Johnny Morris
Tee Dobinson is an award-winning author, a charismatic speaker and a kindness advocate. Tee was sponsored by Nike as a Fitness Athlete for eight years and won Trainer of the Year for her work in leadership and management. Tee has written seven books and is the editor of many guides to world wonders.
More About Tee Dobinson, Johnny Morris
More Books By Tee Dobinson, Johnny Morris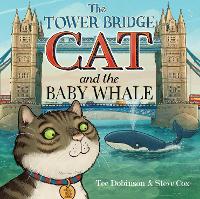 View All Books By Tee Dobinson, Johnny Morris
NEW INDIE AND SELF PUBLISHED BOOK REVIEW AND PROMOTION SERVICE LAUNCHED!
Read More
×