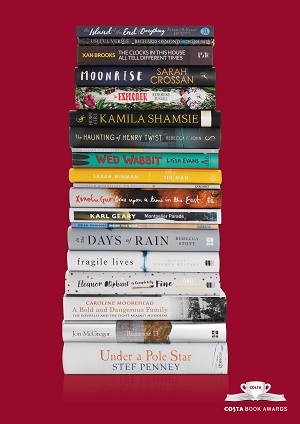 The four shortlisted titles in the Children's Book Category 2017 are -
Moonrise by Sarah Crossan
Judges: 'An exceptional, compelling book for our time – its analysis is devastating but its message is hope.'

Wed Wabbit by Lissa Evans
Judges: 'A deeply original riot of a novel that will delight children and adults alike, and keep you laughing all the way through.'

The Explorer by Katherine Rundell
Judges: 'A masterful, delicious read from start to finish.'

The Island at the End of Everything by Kiran Millwood-Hargrave

Judges: 'Entirely original with not a word out of place – as vivid and beautiful as the butterflies themselves.'

.............................................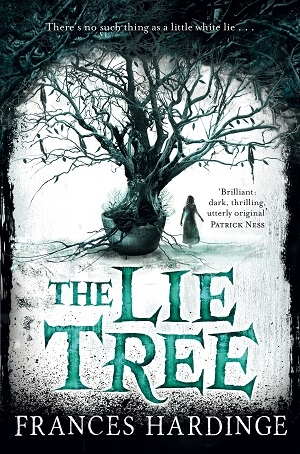 In 2015 a Children's Book Award winner won the overall Costa Book of the Year. The Lie Tree by Frances Hardinge is a Victorian murder mystery the judges said 'will grip readers of all ages'.
It was only the second children's book EVER to take the overall prize, and the first since Philip Pullman won with The Amber Spyglass in 2001!
James Heneage, chair of the final judges, said: "Part horror, part detective, part historical... It's not only a fabulous children's book but a book that readers of all ages will love."

The Costa Books Awards is the only prize which places children's books alongside adult books in this way. You can find the four shortlisted children's books in this special section - and click here to see the shortlists and winners for the other categories.

The Costa Book Awards is one of the UK's most prestigious and popular literary prizes and recognises some of the most enjoyable books of the year, written by authors based in the UK and Ireland. Since their launch in 1971, the awards have rewarded a wide range of excellent books and authors across all genres.
On the judging panel for the 2017 Costa Children's Book Awards are:
Sanchita Basu De Sarkar Owner, Children's Bookshop, Muswell Hill
Fiona Noble Children's and YA Previews Editor, The Bookseller
Piers Torday Author
These judges will select their favourite in the Children's Book category in early January and this book will then be shortlisted for the 2017 Costa Book of the Year, along with the other category winners. The overall winner will be announced at an awards ceremony in central London on Tuesday 30th January 2018.
The winner receives a £30,000 prize.

For more information visit www.costa.co.uk/costa-book-awards and keep up with the latest news @CostaBookAwards