THE FUN NEW WAY FOR KIDS TO ENJOY BOOKS - click on the video to find out more


For parents:
If you're a parent who is enthusiastic about getting kids reading but frustrated by their preference for 'games' rather than books, the launch of FLIPS could just be the thing to tip their enthusiasm into a reading direction.
For kids:
The idea of using an existing entertainment device such as the DS™ to read books is compelling.

Here at lovereading4kids we are very excited about the launch of FLIPS, an innovative new book range created for the Nintendo DS™, that will allow children to read and interact with books from a range of popular authors using their DS™. The original story remains the key emphasis on these FLIPS, but they are made more engaging for even the most reluctant reader by lots of interactive add-ons.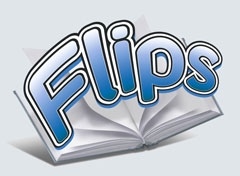 The launch of the FLIPS range brings bestselling authors and series including Cathy Cassidy, Eoin Colfer, Enid Blyton and B Strange's Too Ghoul for School to Nintendo DS™. FLIPS uses the touch screen and stylus to enable children to read on screen, collect, solve and interact by combining the world of storytelling with quizzes, sound effects and references to characters, encouraging greater concentration and incentive to finish every chapter. Within the books, links appear to give the reader a unique way of interacting with the story and enhancing their experience. Each FLIPS title features multiple books - anything from 6-8 books. Children can even share a sample chapter with friends and unlock bonus content.
Click the video to see ITV's This Morning's Ruth Langford launching the EA FLIPS series
Eoin Colfer, the author of the massively bestselling Artemis Fowl series:
'I'm over the moon to see my stories and characters brought to life on the Nintendo DS with EA's new FLIPS range. Everyone knows that reading improves literacy skills. I have two children who are DS fanatics and cannot wait for the FLIPS to arrive, so EA might finally get them reading my books!'
Cathy Cassidy, another launch author for FLIPS said:
'It's fab to see my books come to life in a whole new format giving readers the choice of how they read my books. Friends are really important to my readers and one of the key features of the FLIPS range is that you can share a chapter with your best friends as many times as you like – how cool is that?"
__________________
* please note due the nature of the products we cannot accept returns