'A Story Like the Wind celebrates our common humanity and upholds the human rights values of love, friendship, kindness, home, family, culture and safety.' - Nicky Parker, Publisher, Amnesty International UK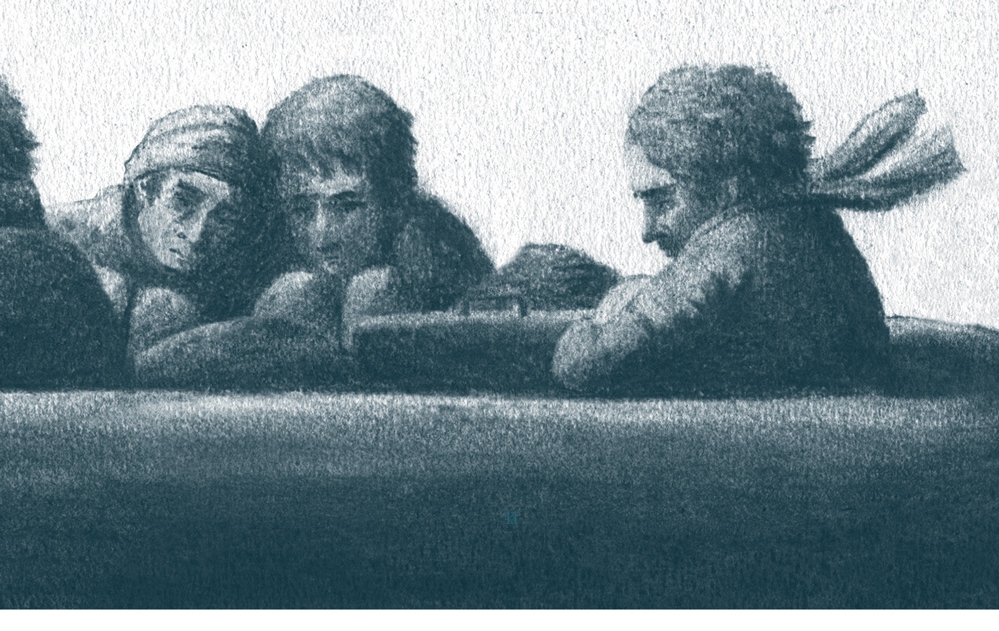 An image from A Story Like the Wind by Gill Lewis and Jo Weaver.
A Refugee is a person who has been forced to leave their country in order to escape war, persecution, or natural disaster.
Over 21 million people have been forced flee their countries to find safety.
Refugees are protected through international law and should not be returned to countries where their lives are at risk. There are numbers of charities across the world that do incredible work supporting refugees, helping with asylum requests and providing immediate aid; food, shelter and medical assistance, and protecting the human rights of these very vunerable people.
Amnesty International. If you are interested in finding out more about the refugee crisis there are articles, blogs and videos on the Amnesty International website. You can also hear an interview with Lord Dubs, the Labour Peer who campaigns for the rights of refugees. As a child he was rescued from Nazi Germany on the Kindertransport, just before the outbreak of World War Two. Listen here.
Or visit www.unhcr.org which is the UN Refugee Agency, a global organisation dedicated to saving lives, protecting rights and building a better future for refugees, forcibly displaced communities and stateless people.
The British Red Cross supports refugees seeking help in the UK. You can read some of the true stories from thousand of refugees the British Red Cross have helped at www.redcross.org.uk - and find out what special services are available to young refugees, some of whom arrive in the UK without their parents or other family member.

An image from My Name is Not Refugee by Kate Milner
The books in this collection appeal to a wide range of ages and are perfect to help initiate a discussion as a family or in the classroom.
Amnesty International and the Amnesty CILIP Honour:
The Amnesty CILIP Honour was introduced in 2016, to commend human rights in children's literature. One book is selected from each of the CILIP Carnegie and Kate Greenaway Medal shortlists, chosen because it most distinctively illuminates, upholds or celebrates freedoms. The inaugural Amnesty CILIP Honours were awarded in 2016 to Robin Talley for Lies We Tell Ourselves (CILIP Carnegie Medal shortlist) and Ross Collins for There's a Bear on My Chair (CILIP Kate Greenaway Medal shortlist).
The judges for the 2017 Amnesty CILIP honour are: Amy Leon, Ross Collins, Sita Brahmachari, Bali Rai, Jack Mapanje, Manya Benenson, Louise Johns-Shepherd, Nicky Parker, Dan Jones and Rowena Seabrook.
The Bone Sparrow by Zana Fraillon was awarded the Amnesty CILIP Honour from the CILIP Carnegie Medal shortlist.

The Journey by Francesca Sanna was awarded the Amnesty CILIP Honour from the CILIP Kate Greenaway Medal shortlist.