Marisa Morea - Illustrator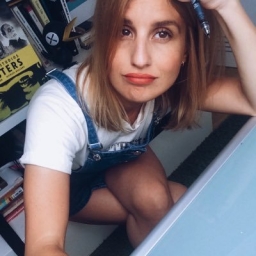 About the Illustrator
Marisa Morea is a freelance illustrator based in Madrid, Spain. She lived in Barcelona for a couple of years and she graduated with an MA in Illustration at Eina School in Barcelona in 2009. After a few years working as an Art Director in several advertising agencies, Marisa decided to quit and become a fulltime illustrator. So far, she's worked with many international clients from the United States, Australia, UK, France and Singapore.
In her spare time, Marisa is an Asthanga yogi and a classic cinema lover. She also goes crazy for music and enjoys creating covers of her favourite songs on the guitar.
Featured books by Marisa Morea

7+ readers
9+ readers
Produced in association with the British Museum this highly illustrated book gives kids a real sense of what life was like in Ancient Rome. It does so by asking them to put themselves in the sandals of their young forbears and compare aspects of their lives – humorously, mainly the worst bits. For example, they're asked to imagine how horrendous school maths would be if all the letters were numbers, as they were for the Romans – it gives a whole new meaning to long division. There are sections on food, medicine (SO much better now) and family life too plus an index and glossary. Entertaining, accessible and full of information this merits X out of X.

5+ readers
7+ readers
A kid's life in ancient Greece might sound like fun, what with all that brilliant sunny weather and watching the Olympic Games, but actually life for kids could be pretty hard. In this hilarious book, written by award-winning author Chae Strathie, children will learn just how tough life really was, from living on a diet of blood soup whilst wearing nothing but a cloak, to having to learn a poem that was over 15,000 lines long! Thanks, but no thanks, Homer! Probably the first book about ancient Greece to feature a race between a go-kart and a goose, this is a must read for kids with a passion for horrible history!

3+ readers
5+ readers
Who needs a partridge in a pear tree when you could have a pup under a Christmas tree? Why choose four French hens when you could have four French bulldogs? Just the thing for dog lovers, this charming picture book gives the old Christmas favourite a canine makeover, and great fun it is too. As more and more dogs pile into the scenes the excitement mounts until there's a near riot on Christmas Eve! Luckily peace is restored for Christmas Day, just one pup again snoozing by his presents. The different scenes are full of variety and everyone will enjoy naming and counting the dogs, and picking out their favourites. ~ Andrea Reece
Facebook Updates
If this is your illustrator page then you can share your Facebook updates with your readers right here on LoveReading4Kids
Find out more
NEW INDIE AND SELF PUBLISHED BOOK REVIEW AND PROMOTION SERVICE LAUNCHED!
Read More
×