Chris Wormell - Illustrator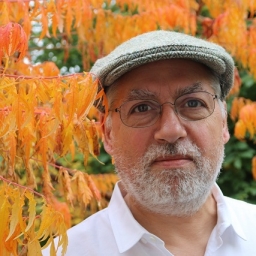 About the Illustrator
Chris Wormell is a self-taught engraver and celebrated printmaker. He creates his timeless illustrations using wood engraving and linocut, as well as digital engraving working with tablet and computer. Chris has written and illustrated many children's books and most recently gained recognition for the cover illustration of the awardwinning bestselling H is for Hawk, by Helen Macdonald, as well as for Philip Pullman's La Belle Sauvage: The Book of Dust Volume One. Read a Q&A here.
Featured books by Chris Wormell

9+ readers
11+ readers
13+ readers
Very hard to believe that this is the 25th anniversary of Philip Pullman's ground-breaking fantasy, now getting legions of new fans through the BBC adaptation. Northern Lights not only won the Carnegie medal, but in 2007 was voted by the public as the Carnegie of Carnegies to celebrate the 70th anniversary of the medals. Then The Amber Spyglass, part three of His Dark Materials trilogy, of which Northern Lights is of course the first part, became the first ever children's book to win, what was then, the Whitbread book of the year and so this series has become firmly established in the canon of children's literature and a new edition like this is indeed a publishing event. Chris Wormell illustrated the covers of the two Book of Dust titles which extend the trilogy and also a recent rejacketing of His Dark Materials and so is a natural choice to undertake this huge challenge. His distinctive style of wood engraving and lino cut and the dark, yet vivid colour palette he employs are perfectly suited to this familiar, yet fantastical world created by Pullman – who has said how much he admires the work. Ranging from decorative chapter headings to full colour and monochrome vignettes to full page bleeds to double page spreads, the breath-taking images add great characterisation and drama to the story, making the reading journey even more immersive. A shared reading with a generation approaching the story for the first time will be an unforgettable reading event in a classroom or family context. I sincerely hope the partnership will extend to the next books in the trilogy- what a collection that would be!

5+ readers
7+ readers
9+ readers
With the school summer holidays approaching, thoughts turn to activity books and this one will have them dreaming of space even while stuck in the back of the car. There are all sorts of activities and challenges, some based on the solar system, some on our means of discovering it – one particularly lovely spot-the-difference for example features Herschel's telescope, and readers are given the opportunity to design and draw their own telescope and spacecraft. It all looks absolutely gorgeous, no wonder given that the illustrations are by Christopher Wormell, and will keep them occupied for hours while conveying information that will last a lifetime.

7+ readers
9+ readers
Winner of the Royal Society's Young People's Book Prize 2019 | A special edition for junior readers of the superb Planetarium in the Welcome to the Museum series, this book dazzles. It takes readers on a journey into space, explaining clearly and sometimes poetically, where our planet is in the Solar System, how we have found ways to look out across it, and what we have discovered about the universe. Information is conveyed though precise descriptions catching all of the awe-inspiring sense of time and distance, while Christopher Wormell's illustrations are both beautiful and illuminating. Opening with a section on telescopes and observatories, and ending with the end of the universe, via sections on the night sky, stars and galaxies, this really is a book to treasure, and although the text has been adapted for younger readers, it will fascinate those of any age.
Twitter Updates
If this is your illustrator page then you can share your Twitter updates with your readers right here on LoveReading4Kids
Find out more
Facebook Updates
If this is your illustrator page then you can share your Facebook updates with your readers right here on LoveReading4Kids
Find out more
CHECK OUT OUR INDIE AND SELF PUBLISHED BOOK REVIEW AND PROMOTION SERVICE
Read More
×