Jacob Grant - Illustrator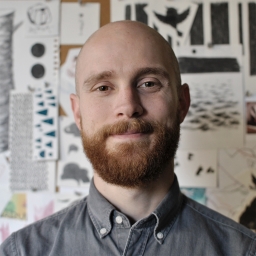 About the Illustrator
Jacob Grant is the author and illustrator of Bear's Scare, Scaredy Kate, Little Bird's Bad Word, Cat Knit and Through the Zoo. He is a winner of the annual Don Freeman Work-in-Progress Grant by the SCBWI. Jacob lives in Chicago with his family.
Featured books by Jacob Grant

3+ readers
5+ readers
January 2020 Book of the Month | With a concept based entirely upon the universal truth that as soon as somebody tells you not to think of something, you immediately do so and the quite philosophic concept of visualisation of language heard or read, this book will have young( and old) readers in stitches. Stamped with a No Silliness Allowed warning on the front cover, we can anticipate plenty of silliness ahead despite the firm instructions from the very serious scientist introducing the amazing book that has the power to show a picture of the reader's thoughts. Sadly, it all goes wrong for him as soon as he uses pink elephants as an example of what not to think about and quickly escalates as he thinks of more terrible scenarios involving elephants, mice, panties and their bottoms. The explosive finale causes him to order the reader to put the book down and "Don't even think about" picking it up again…..This is bound to be instantly disobeyed in every home and classroom! The zany illustrative style is perfectly suited to this story and the clever use of the only white space being within the speech bubbles immediately emphasises the instructional and increasingly shouty nature of the scientist's words. Both great fun and a creative inspiration, this is a must have purchase!

3+ readers
5+ readers
This reassuring tale of friendship and kindness will charm young readers. Friends Bear and Spider are as different as you can be, and not just in size either. Spider loves the outdoors – the sunshine, the breeze, the colourful plants and the bugs of course. Bear likes nothing more than a 'tidy day' at home, followed by a nice cup of tea in his cosy chair. But when Spider's kite blows away into the forest Bear agrees to help him find it, even when it starts to rain. Bear and Spider make a comic couple in Jacob Grant's crayon-and-ink illustrations, Spider silent but hugely expressive perched on his friend's shoulder. The final picture shows the two of them enjoying a cup of tea, while flying kites – a lovely image of compromise and happiness that will have everyone smiling.
Facebook Updates
If this is your illustrator page then you can share your Facebook updates with your readers right here on LoveReading4Kids
Find out more
NEW INDIE AND SELF PUBLISHED BOOK REVIEW AND PROMOTION SERVICE LAUNCHED!
Read More
×