Sally Anne Garland - Illustrator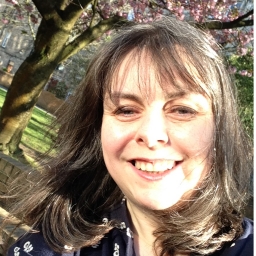 About the Illustrator
Sally Anne Garland grew up in a small town called Alness in the Highlands of Scotland. According to her parents, her first really good drawing, at the age of four, was a large mural in crayon on the sitting-room wall. She went on to study Illustration and Graphic Design at Edinburgh College of Art before settling in Glasgow, where she lives with her partner and their son. Stuck Inside was inspired by her interest in the small world children inhabit, the way the simplest things can be so new and exciting, and how the best fun often begins when children are at their most bored. When she's not drawing or writing stories, she has fun reading books or watching movies INSIDE, and going on walks OUTSIDE.
Featured books by Sally Anne Garland

3+ readers
Little Nook is small, gentle and rarely speaks. She likes to sit quietly with something safe and solid to lean against. Her little classmates accept this, and a small hollow in a tree in the playground becomes known as Nook's place. When someone else arrives, who doesn't or won't understand it, Nook feels her panic rising. But it's OK because her friends have got her back, and suddenly she no longer needs the reassurance of the hollow. This is a thoughtful and effective depiction of shyness and vulnerability and the kindness shown by Nook's little friends carries real weight. Garland's illustrations of Nook and her classmates are beautifully done, capturing every emotion. A lovely story to share and discuss.

3+ readers
5+ readers
Longlisted for the UKLA Book Award 2022 ages 3-6 | | Stuck inside and feeling blue with nothing do to? No problem! With a dash of imagination, everyone's home and outdoor objects can be transformed into the stuff of adventures, as toddler Tilly and puppy Toby discover in this charismatic picture book that wears its message on its sleeve - "all the fun of outside was already inside their minds". With Toby confined to the house on account of his poorly paw, and Tilly stuck inside due to a brewing storm, both of them are feeling pretty despondent. Toby paces back and forth by the door while Tilly gazes sadly outside at the "dark, gathering clouds," until Toby brings her his lead and she's struck by inspiration. Together they explore every nook and cranny of their house for "all their outdoor belongings," discovering lots of toys they'd long forgotten about, from roller skates and balls, to bicycles and an old paddling pool. These objects are quickly transformed into the "most amazing, astounding, and spectacular Dog-Walking, Storm-Protecting Machine," no less! I loved the retro soft-but-scratchy illustrative style that put me in mind of the original 1970s Topsy and Tim books, and the book's message of having adventures at home has resonance beyond its current COVID-19 relevance - it's a perennial theme, here delivered through an upfront story with enduring visual charm.
Other books by Sally Anne Garland

Lucy sails across the sea fixing and mending her small rickety raft hoping to reach Far Away Island. But when a gigantic wave sweeps all the other children away, except Lucy, The Little Pirate Queen is determined to rescue everyone no matter what. A story about resilience, empowerment and compassion, beautifully written and illustrated by Sally Anne Garland.
CHECK OUT OUR INDIE AND SELF PUBLISHED BOOK REVIEW AND PROMOTION SERVICE
Read More
×