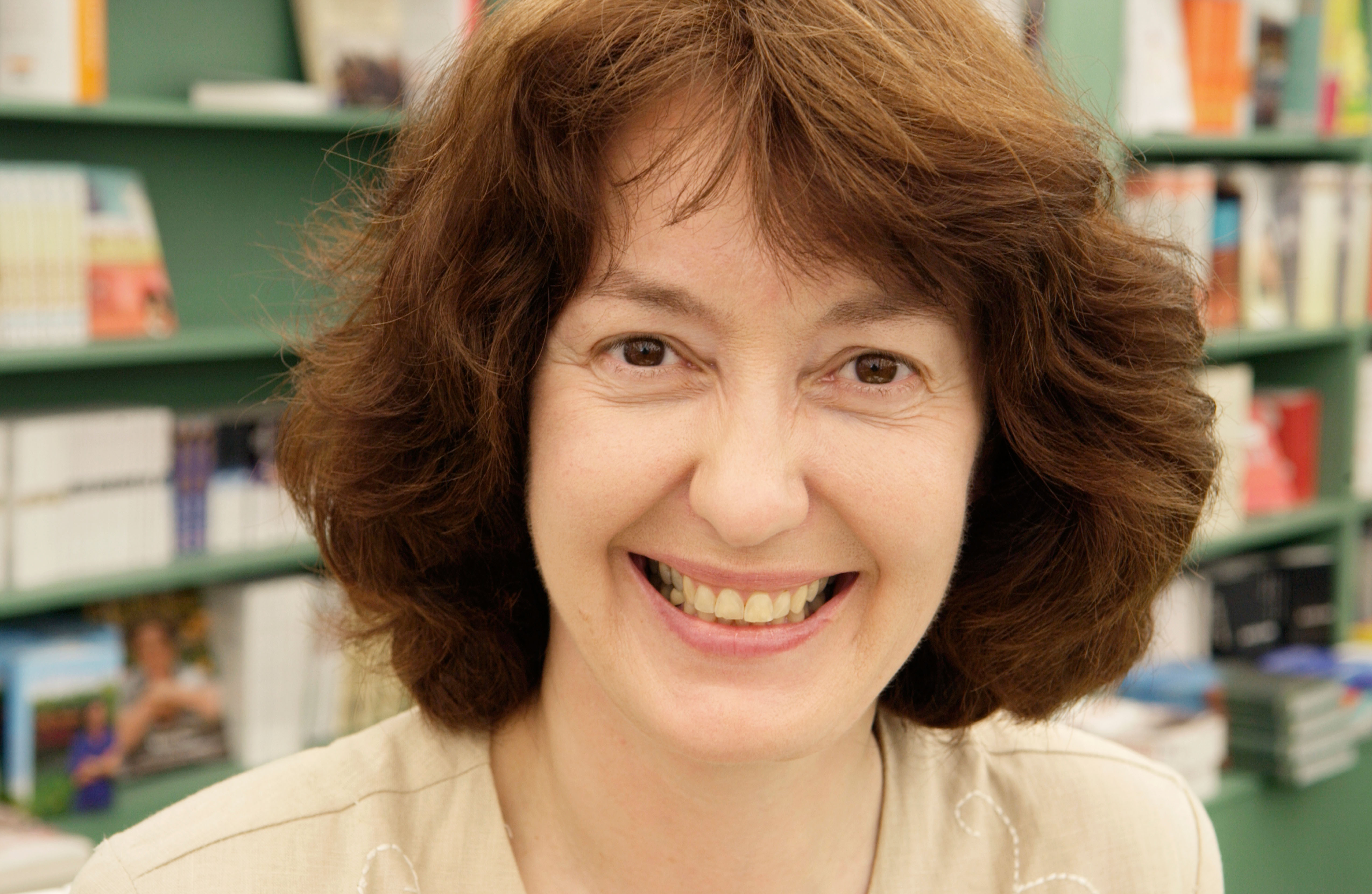 This month we are delighted to welcome Geraldine McCaughrean, twice winner of the prestigious Carnegie Medal and one of our most acclaimed and admired children's novelists, as our Guest Editor.
She has shared book recommendations, written a wonderfully chatty letter to our readers and given us a candid and comic insight into her life in this Q&A.
Anne Fine, fellow author puts it so well..."I reckon Geraldine McCaughrean knocks the socks off every other children's writer today. Everything she does is different and everything works – look at her list of prizes. She must write in tremendous bursts. Some years, she's so prolific the rest of us start joking that the fairies come in at night to do her work for her. Then she'll go quiet, so unlike all those writers who are persuaded by their publishers to come up with something every year, no matter how tired or drab. If Geraldine has nothing fresh to write, she doesn't write it."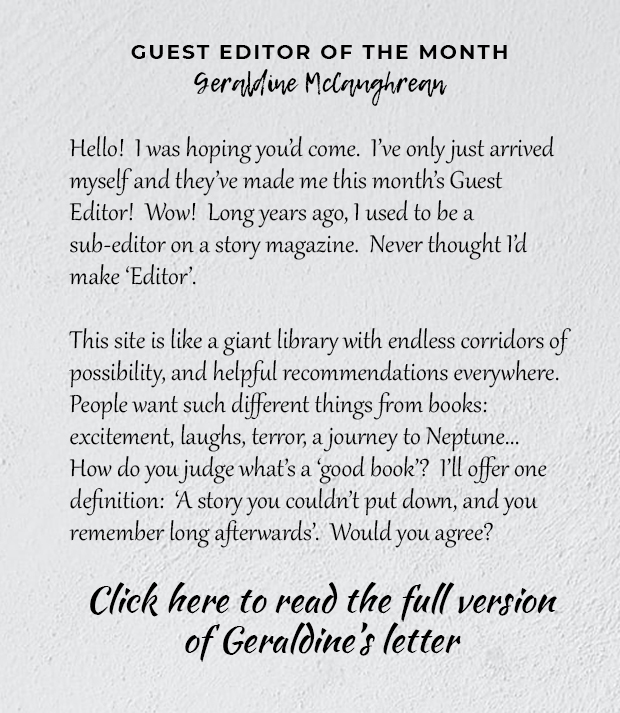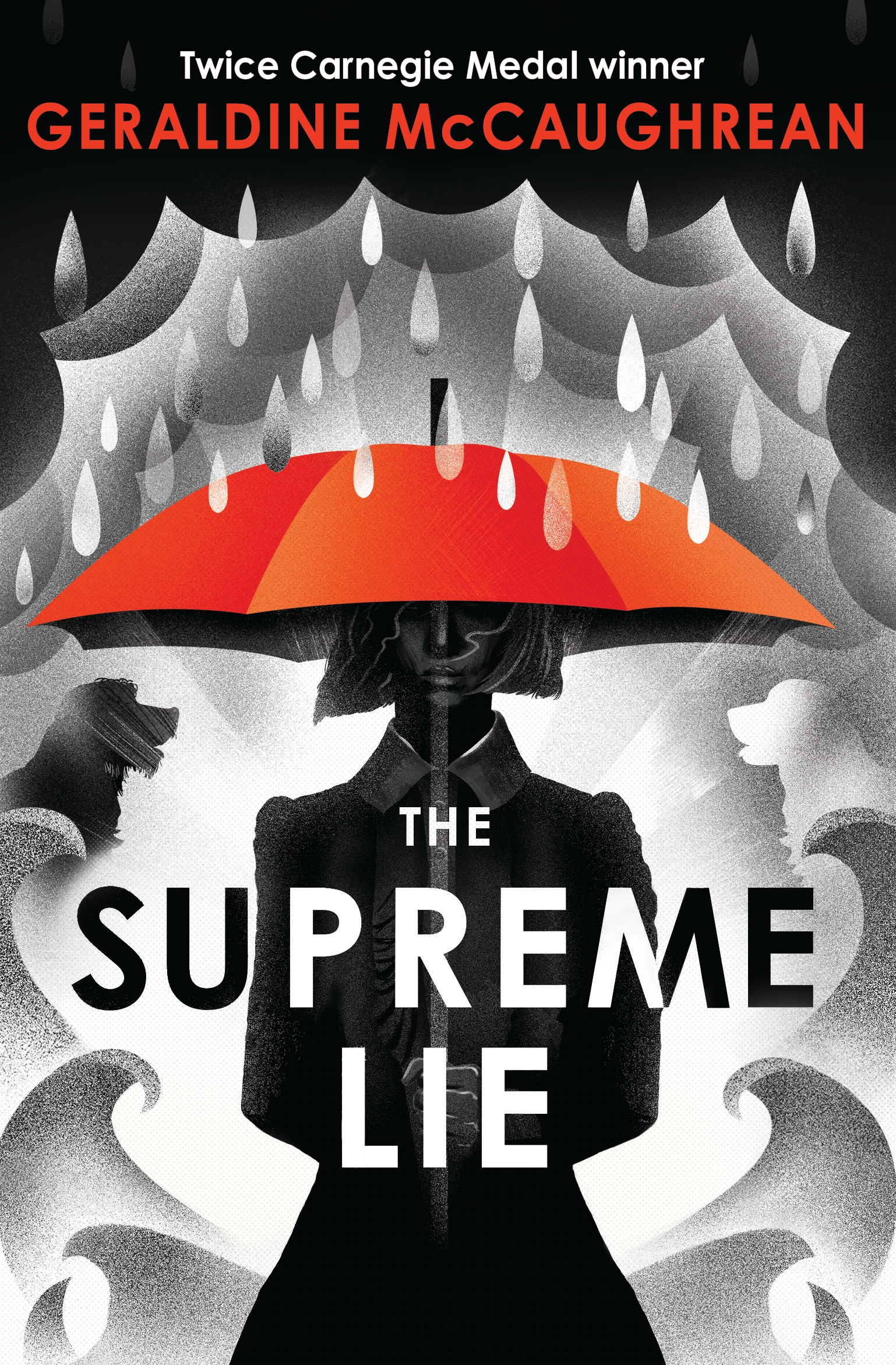 We were very excited to see you had a new book publishing, The Supreme Lie, a darkly comic novel set in a world paralysed by natural disaster and dangerous politics. You mention that you read about a disaster and scandal in the US in the 1920s which inspired The Supreme Lie…what made you decide to create a fictional world rather than write the historical story that inspired you? The fictional world seems to inhabit the same period?
I started to, but it was simply not allowed. It's a shame: in England, very few people even know about the flood that hit the Mississippi Basin in 1928 America and they would be horrified: it's a shocking story of prejudice, cruelty and lies. There needs to be a banner hanging over the date, proclaiming 'black lives matter!' ...But rules have changed now and I have to leave it for others to tell. Fair enough.
The canine characters are very important to the story- as well as providing humour they seem to allow you to reveal character's emotions- was this the reason for including them? Do you have a dog- they seem to be created by a dog lover?
I did have a dog – a golden retriever ( called Daisy, of course!). She died at a great age, a few years ago, but while I was writing the book, she felt alive and well and as soft and dozy as ever. She'd never have made a 'seeing dog': she tended to get lost, and was very easily distracted, especially by food. But she definitely deserved to be immortalised in a book.
The dogs' adventures sort of mirror the behaviour of the people – some pitiless and savage, some cowed, some, like Heinz and Daisy, gifted with a moral sense, gentleness, loyalty or unexpected bravery.
How do you come up with character and place names? Some of them seem to be signifiers or to underline character traits? Or are they mostly used for humorous effect?
You're quite right: some are signifiers – like Appis the chauffeur – Apis is Latin for bee – not so much the kind that makes honey as the kind that stings. 'Kovet' hints at 'covet' i.e. to envy what someone else has. What it ISN'T is a play on Covid! I gave him his name well before the pandemic even began. I wanted the population of Afalia to be multinational – hence Greek-born Timor Philotapantasol (which means lover of peace). Heinz, as I'm sure you know, is a soup that once advertised itself as having 59 varieties, so mongrels were referred to as 'Heinzes' because they were a mix of umpteen breeds. Myld? Ah well, it's always nice to mislead readers a little.
Oh, and try saying Afalia out loud: you'll see why the country's called that.
Comic effect was less on my mind than making everyone's name different. Thirty years ago I was offered this sterling advice: give all your characters names that make a different shape on the page. Apparently, most readers don't take in a character's name by its spelling or sound, but by its shape.
At what point in the creation of the story did you write the newspaper articles? Why did you use this feature and what did you think it would bring to the story? The anagrams are great fun too- are you a puzzle fan?
I always intended there to be newspaper pages – not just to advance the plot, but because the power of The Voice grows when the workers can't leave the factories. They have only the newspaper telling them what to think.
To my delight, Keith Robinson's illustrations lent a lovely flavour of 1928: the fashions, the artwork, the mood. My hope is that the later events in the book may send the reader back to find those clues and hints on the newspaper pages that they missed the first time round. As for the anagrams: yes I love puzzles... and the anagrams are important to the plot!
The reader has the benefit of a map to keep track of the landscape as the natural disaster unfolds. Do you draw maps for yourself as you write?
I just drew the one map and changed it when the plot didn't quite fit the geography. My drawing isn't up to much, so I was very grateful to Keith for drawing the finished map.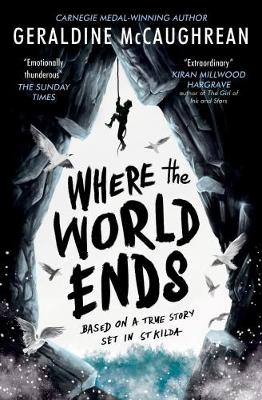 We loved your last book, Where the World Ends - and so did the critics as it won the prestigious Carnegie Medal in 2018. It is a beautifully written story of survival, based upon a true story. It must have been a harrowing experience for the boys abandoned on sea stack in the Outer Hebrides. Tell us how you came across the story - it clearly fired your imagination!
My daughter wrote a play set in St Kilda. She had a wealth of unused incidents left over, and I asked if she minded me using the story about the stranded boys. She didn't... so I did! Those boys needed to be given a voice: they weren't even given names in the historical records. It seemed truly impossible that they could have survived. If I had not been able to say, "Look, this is true! This really happened!" I doubt readers would have believed it.
This was not your first Carnegie win, you also scooped the prize in 1988 for A Pack of Lies. This was a very different style of book, imaginatively made up of a series of separate stories told by a mysterious stranger. Do you have a favourite story from the twelve told by MCC Berkshire?
My idea was to write stories in every different 'genre' I could think of, for readers at that age when they're finding out that not everyone likes the same kind of book. I used to ask in schools: "Which is your favourite? Which weren't you fussed about?" It proved past doubt that readers have very different tastes: every story got its turn to be liked best and liked least.
I think my favourite is the bonkers story at the end, with Baron Greefenbludd, Fowlstrangler and the Grinwald Beast: way-over-the-top! ...Or, of course, MCC's own story weaving in and out of his invented ones.
Audio books are so popular now - have you joined the audio book movement? And who would you choose to narrate The Supreme Lie?
I love audio books. Happily lots of my books have been recorded. Anton Lesser's the King, I reckon, but...
A daughter is useful in lots of ways: funny, news-ful, good company, techno-savvy – but when she's a RADA actor as well, her price is beyond rubies. Ailsa Joy has recorded three of my books, including The Supreme Lie. Lockdown meant the recording studio wasn't open... She even had to edit the recording herself. Luckily, she had just helped build a sound booth in her spare bedroom... I haven't heard the finished result yet but, trust me, it'll be good!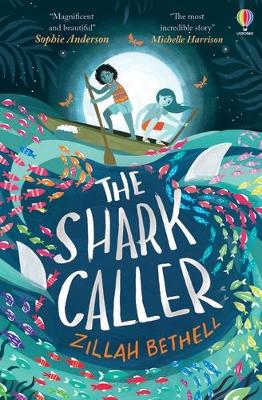 Have you found yourself reading more over lockdown? What are you currently reading and which books are in your to-read pile?
I've been writing another book all through lockdown so, strangely, I've read very little: Jason Cockcroft's We Were Wolves, The Ghost of Gosswater by Lucy Strange, The Outlaws Scarlett & Browne by Jonathan Stroud, Katherine Rundell's The Good Thieves – (goodness that girl is prolific!).
The to-read pile is tall and teetering. Currently it includes:
The Shark Caller by Zillah Bethell
The Letter for the King by Tonke Dragt
Greenery by Tim Dee
Light Perpetual by Francis Spufford
And in May there will be Noah's Gold by Frank Cottrell Boyce – can't wait!
Which book do you wish you had written?
Fiction: Music and Silence by Rose Tremain
Non-fiction: The Rights of the Reader by Daniel Pennac
If you hadn't been an author what would have been your dream job?
Photography, I think, for the same reason that writers write: to take a moment in time and fix it on paper so that it lasts and lasts.
One in three of all books sold is a children's book yet children's books only get 4% of review space in the media. Why do you think this is - and what can be done?
Oh, but there are other excellent places to read the reviews – LoveReading4Kids, for one! ... I know what you mean, though. What annoys me most is when newspapers do recommend 'Books for your children to read over the holidays' and then waste a double-page spread on the same old list from the filing cabinet: books our grandmothers and mothers read and that everyone knows about already. I suppose that if Children's Publishers advertised in newspapers they would endear themselves more to editors. But I suspect 'children's books' are not of much interest to erudite reviewers in search of Literature and scholarship.
As for other media, a TV slot alongside other children's programming would be a brilliant way to prove books are about leisure and pleasure – not just school.
And as our Guest Editor, Geraldine has given us five of her favourite children's books to recommend to our readers, plus a special newly published bonus choice - and we showcase a selection of her brilliant books.