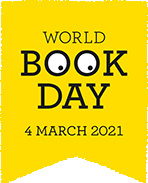 March 4 2021 is World Book Day! World Book Day is a celebration of reading and an opportunity to encourage children to explore and rediscover the pleasure of books by providing each child throughout the UK and Ireland with a book of their own. WBD will be a bit different this year but there are still lots of ways to celebrate our love of reading!
Here we give a round-up of events, some new exciting activities for WBD 2021 and the all important £1 books!
Thanks to the generous sponsorship by National Book Tokens, schools and nurseries across the country have been sent £1 printed vouchers to be distributed to pupils and there is also an opportunity to get a single use digital token which can be emailed to parents at home. The token will also be printed on McDonald's Happy Meal boxes through February and March, and in some children's magazines. Tokens will be valid beyond the normal 28 March cut off, whilst stocks last, and most major supermarkets will be stocking the £1 books.
Here is the full list of all the £1 World Book Day books:
There's a Wolf in Your Book by Tom Fletcher & Greg Abbott, published by Puffin Books
WOW!  Monster, Dragon, Alien, and Witch have made you a book! Jump in to explore the interactive adventure inside … but make sure you watch out for the BIG BAD WOLF!
You can find more books from this duo here!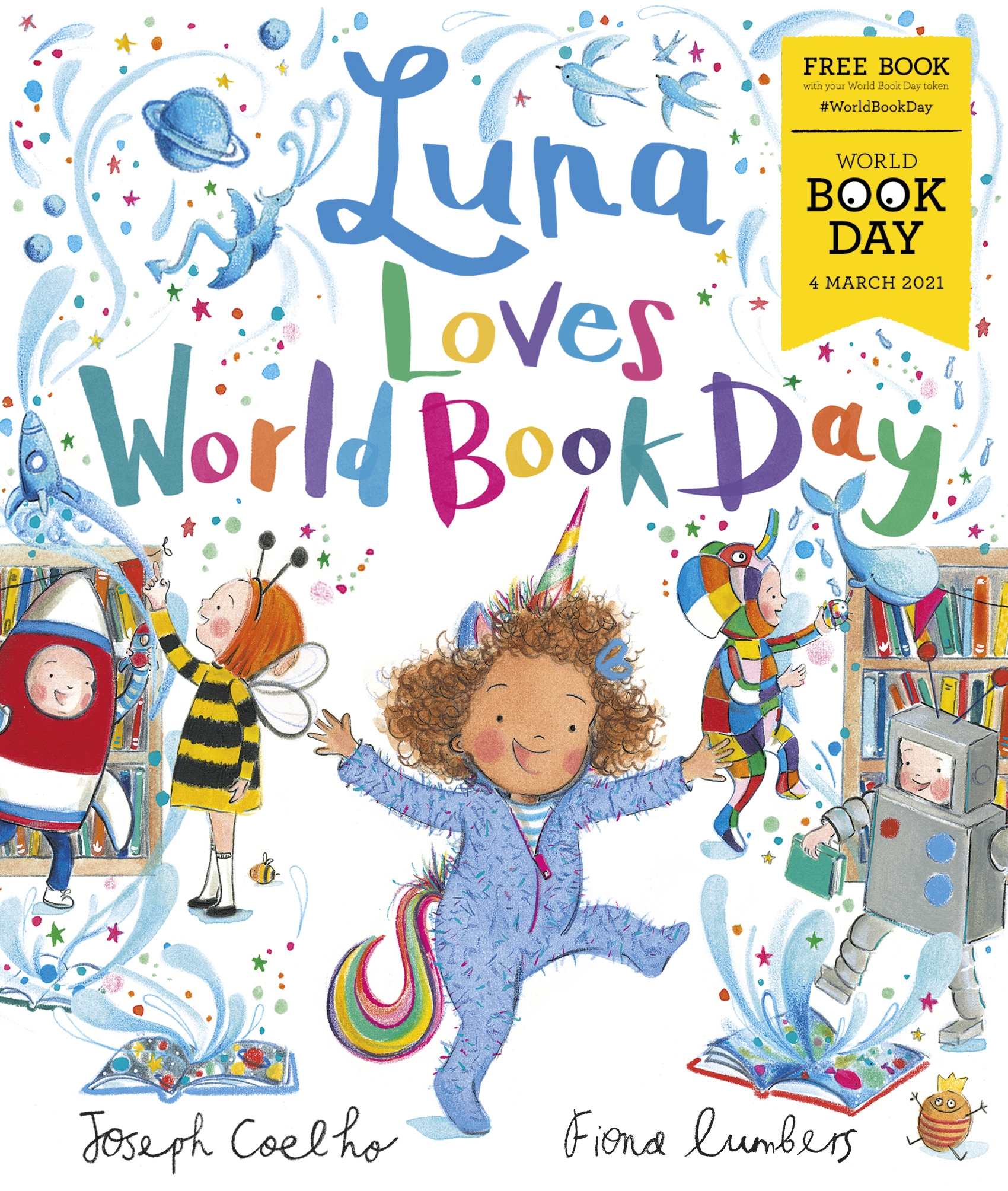 Luna Loves World Book Day by Joseph Coelho & Fiona Lumbers, published by Andersen Press
Everyone loves World Book Day – especially Luna! Join her as she throws herself into all the fun of the day. Dressing up as her favourite character (a unicorn), joining all her friends in a great storybook adventure and making her own mini character.
Find more books in the gorgeous Lulu Loves series here.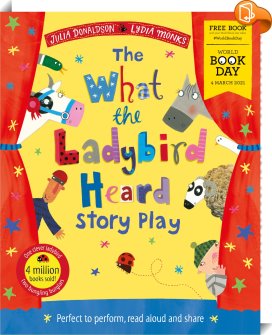 What the Ladybird Heard Story Play by Julia Donaldson & Lydia Monks, published by Macmillan
One clever ladybird, two bungling burglars… and a whole farmyard of fun!
Hefty Hugh and Lanky Len are two crafty robbers with a cunning plan to steal the farmer's fine prize cow. But little do they know that the tiniest, quietest creature of all has overheard their plot, and she has a plan of her own…
Find more books in the What the Ladybird Heard series here.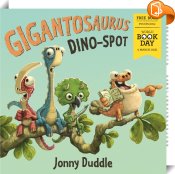 Gigantosaurus Dino-Spot by Jonny Duddle, published by Bonnier
"I've made this thing I call a 'BOOK'. I might let you three have a look. We'll play my game called DINO-SPOT. To win, you'll have to spot the lot!" Bonehead thinks he's the best dino spotter. But can he find GIGANTOSAURUS?
Find more books by this talented author/illustrator here, including the wonderful cautionary tale, Gigantosaurus!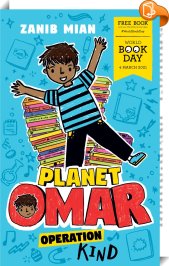 Planet Omar: Operation Kind by Zanib Mian, published by Hachette
One of Omar's best friends, Daniel, has a little sister who goes to hospital regularly. He usually finds it easy to cheer her up when she's there, but this time he feels he needs to do something extra special.
Enter Omar and their other best friend Charlie to help with Operation Kind!
Find more books in the hilarious Planet Omar series here, laugh out loud books with brilliant cartoon style illustrations.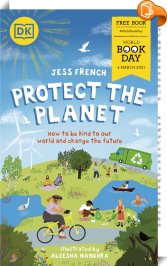 Protect the Planet by Jess French & Aleesha Nandhra, published by DK
Our planet is precious, and it's up to us to take care of it. You may feel small, but your small actions can make a big difference. This book will teach you that by acting with kindness towards other people, plants, animals, and yourself, you can help to protect the planet.
Find more books by animal expert, Jess French here!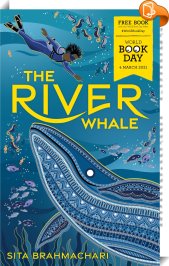 The River Whale by Sita Brahmachari, published by Hachette
Immy has always loved wild swimming; one day, she hopes to become a marine biologist. Tomorrow is the first step towards that goal – completing her entry level diving certificate.
But her plans for a good night's sleep are ruined by a strange and vivid dream of a distressed whale in the river. At school she tries to shake it off, but discovers that her nightmare has leaked into reality.
Find more books by this prize winning author here with outstanding stories for children age 9 to older teens.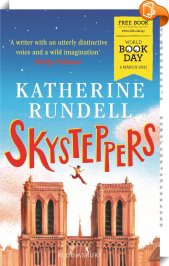 Skysteppers by Katherine Rundell, published by Bloomsbury
High above the streets of Paris live the rooftoppers, a secret gang of children who eat, sleep and tumble amongst the chimney pots. It's a perilous life, but for Matteo and Mercedes the adventure is only just beginning. Caught up in a long-standing feud that threatens their existence amongst the stars, they find themselves on a hunt across Paris, tearing across the roofs of Versailles and the Louvre, searching for hidden treasure in a race against Henri Danglars – the enemy who would seek to destroy that which they love best.
Find more books by Katherine Rundell, author of a brilliant stories including The Wolf Wilder, The Good Thieves and The Explorer.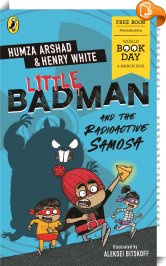 Little Badman and the Radioactive Samosa by Humza Arshad, Henry White & Aleksei Bitskoff, published by Puffin Books
You've heard of Little Badman, right? No? Oh. Well. . . Doesn't matter. You will do one day. He's gonna be big.
Twelve-year-old Humza Khan, aka Little Badman is, amongst lots of other things: Eggington's greatest rapper, a ninja, an all-round legend. That's all according to Humza. And, to be honest, Eggington (his home town) is quite small. He has saved the word a couple of times though – from alien slugs and evil time-travelling teachers. They are very cool adventures, and we'll tell you about them some time, but this story will blow your mind.
Here is the first funny book in this series, Little Badman and the Invasion of the Killer Aunties, shortlisted for the Branford Boase Prize.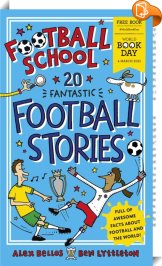 20 Fantastic Football Stories by Alexander Bellos, Ben Lyttleton & Spike Gerrell, published by Walker Books
Discover 20 mind-blowing football stories in this awesome collection created for World Book Day 2021. Find out the true stories of the star players, top teams and game changers who have shaped football history.
The bestselling Football School series explains the world through football. This collection is packed with fascinating facts and super stats, so you'll learn loads about football, as well as other amazing subjects such as history, science and geography.
Kill Joy by Holly Jackson, published by Egmont
Pippa Fitz-Amobi is not in the mood for her friend's murder mystery party. Especially one that involves 1920's fancy dress and pretending that their town, Little Kilton, is an island called Joy.
But when the game begins, Pip finds herself drawn into the make-believe world of intrigue, deception and murder. But as Pip plays detective, teasing out the identity of the killer clue-by-clue, the murder of the fictional Reginald Remy isn't the only case on her mind . . . Suitable for 15+
Find more books by this exciting YA author here, including her debut crime thriller, A Good Girl's Guide to Murder!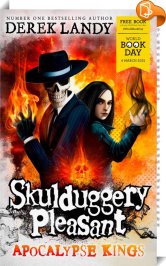 Skulduggery Pleasant Apocalypse Kings by Derek Landy, published by Harper Collins
Three ancient gods are freed from their prison with only one desire: to destroy the planet and everyone on it. To save us all, Skulduggery Pleasant and Valkyrie Cain must go undercover in a Dublin school. Skulduggery has to blend in with the teaching staff, while Valkyrie has to pass for an ordinary schoolgirl. Above all else, no matter what happens, they both must act completely and utterly normal.
We are so dead. Not suitable for younger readers.
Find all the books in the thrilling, and sometimes slightly scary!, Skulduggery Pleasant series here.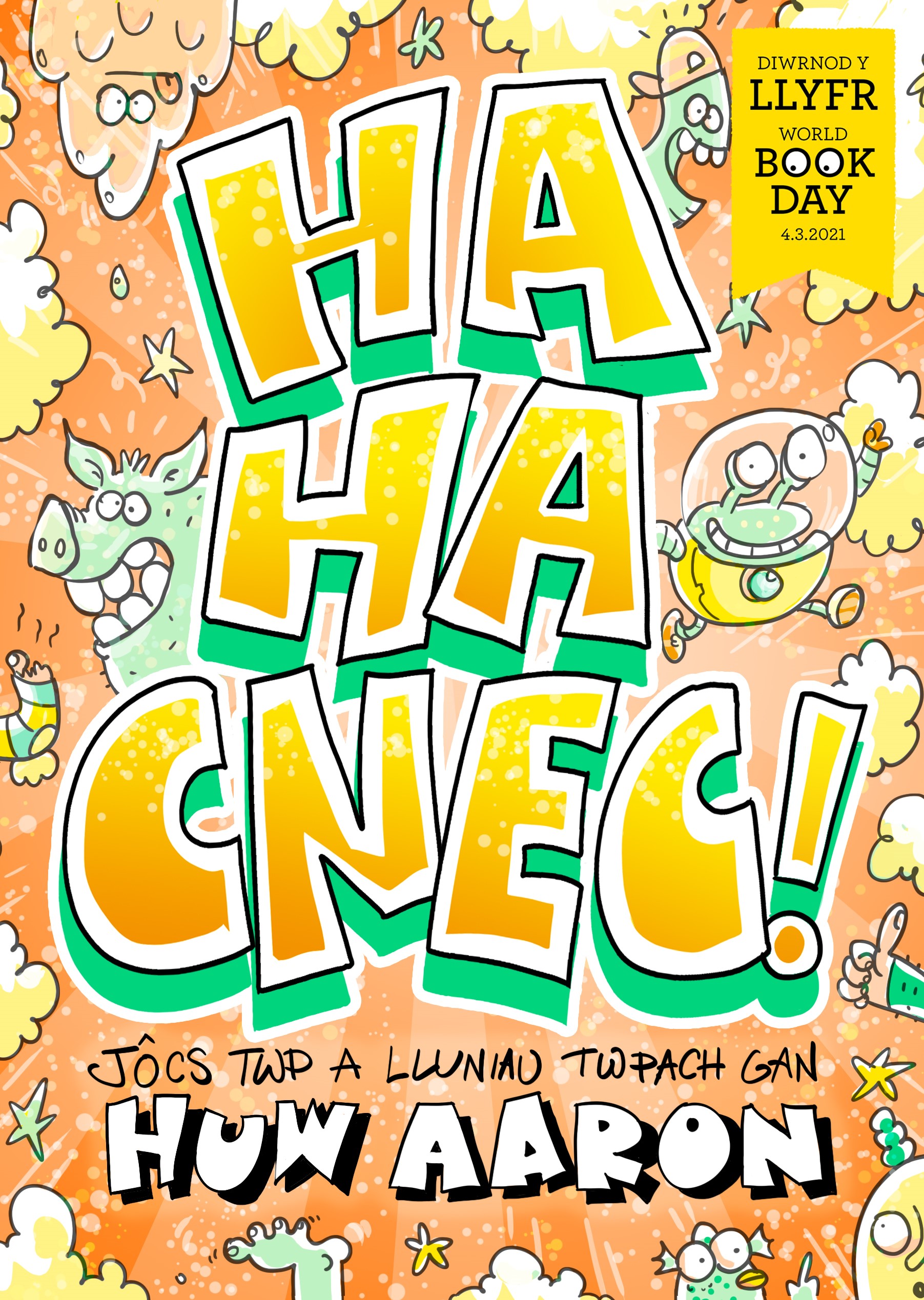 There is an additional £1 Welsh-language books available only in Wales. Ha Ha Cnec by Huw Aaron
In his own distinctive style, the talented cartoonist and illustrator from Cardiff has created a special edition packed with jokes and cartoons along with some of Huw's unique characters.
I ddathlu cyhoeddi'r teitl, mae'r Cyngor Llyfrau wedi trefnu cystadleuaeth arbennig i ddod o hyd i'r 150 o gymeriadau o lyfrau plant Cymru sydd wedi cael eu cuddio gan Huw mewn poster prysur.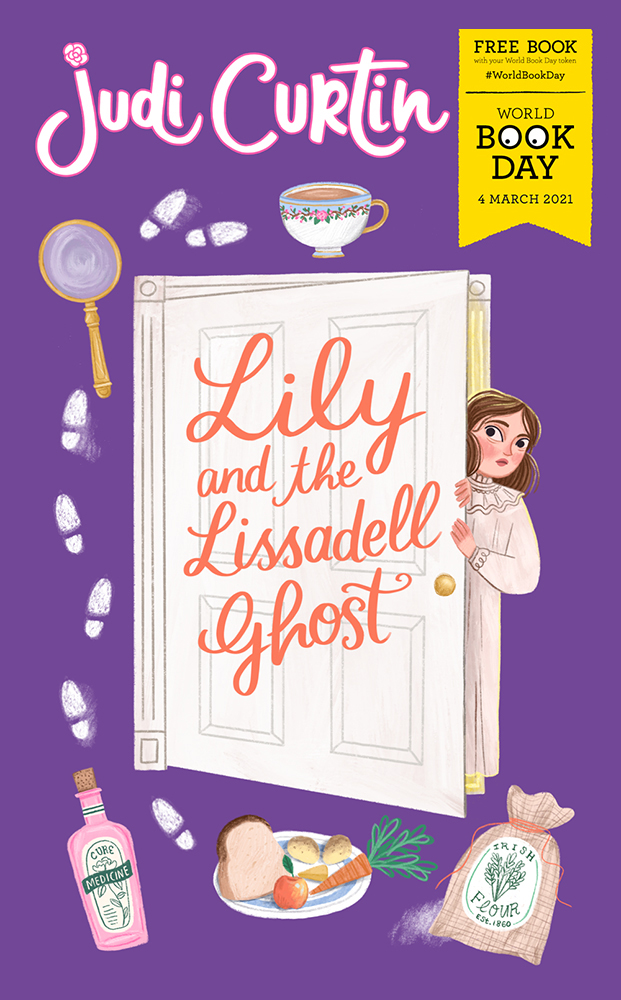 And the O'Brien Press Exclusive Irish World Book Day Book is Lily and the Lissadell Ghost by Judi Curtin
Lily and her friend Nellie are housemaids at Lissadell House. Working in such a big house keeps the girls busy, but they still find time for fun, and friendship Maeve, the madcap daughter of the famous Republican, Countess Marcievicz. So when strange things start to happen at Lissadell – odd noises, food going missing and rumours of a ghost – Sherlock Holmes-fan Maeve is determined to lead an investigation. Between them can the three girls solve the mystery of the Lissadell ghost?
You can find more stories by Judi Curtin here, including fiesty Eva and the adventure series Time after Time.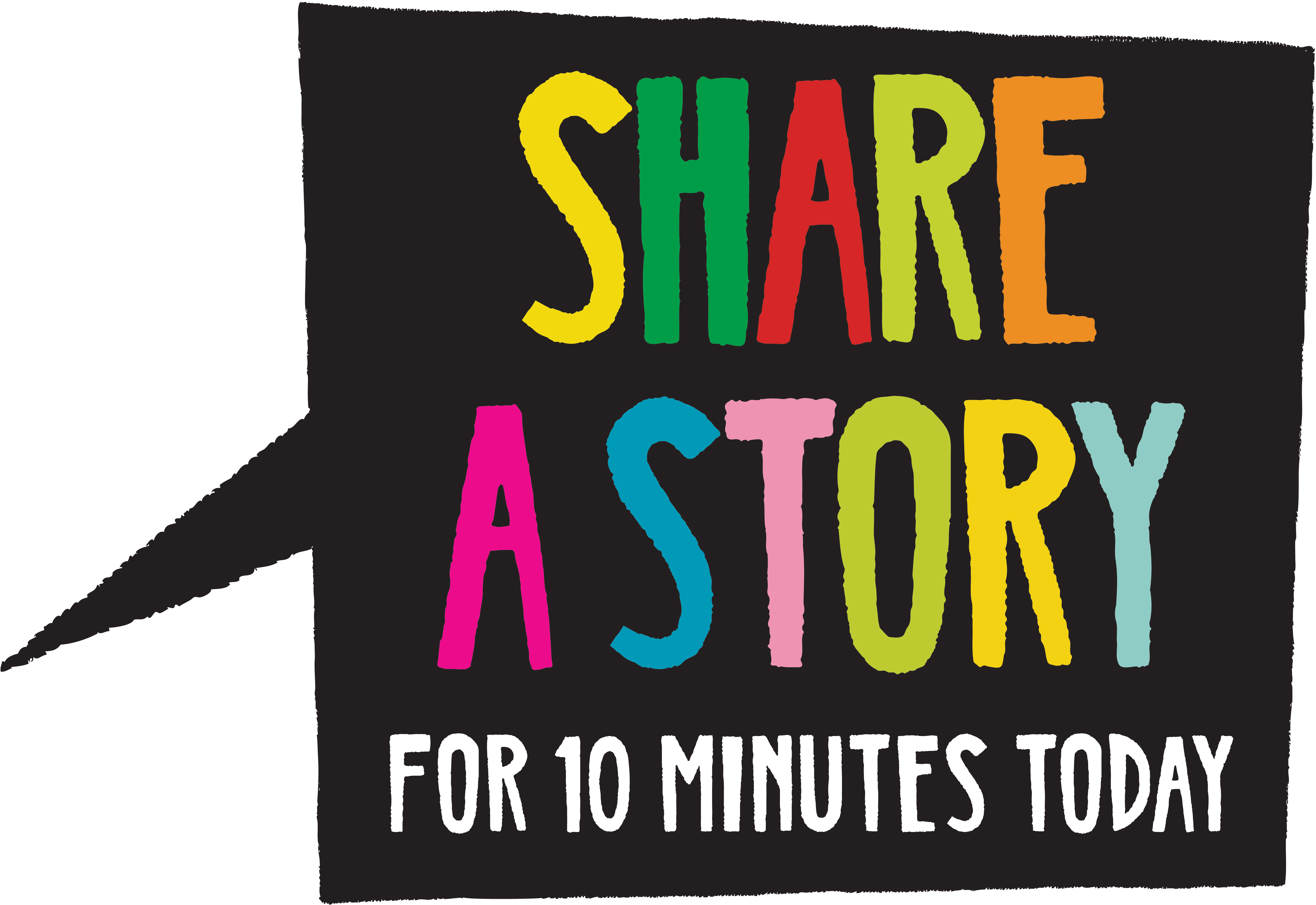 The WBD team have been busy to find ways to make the event even more accessible this year.
Over the 3-5 March you can watch fabulous live events at 10.30am each day. Wednesday's theme is Books that Make you LOL!, Thursday is the World Book Day special – Bringing Reading to Life, and on Friday the theme is Books and the Real World - hosted by the WBD authors & illustrators. You can find out more about each event here: worldbookday.com/events and children can submit advance questions to their favourite author now.
New additions this year include the Share a Story Corner video books, the World Book Day Book Club starting in March with the brilliant High Rise Mystery by Sharna Jackson and the World of Stories, free audiobooks with a selection of Picture books, Young Fiction, Fiction and Teen.
As part of the selection panel for the WBD books, our LoveReading4Schools editorial expert Joy Court has the full lowdown on events on WBD and beyond, which you can read here.
The official illustrator for World Book Day 2019 is the supremely talented Rob Biddulph. You can read a Q&A with Rob and find out more about his books, including the award-winning Blown Away.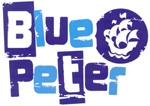 And don't miss the Blue Peter Award Winners which will be announced in a special show on World Book Day. You can see the shortlist & read more about the books here.


For more information visit www.worldbookday.com
World Book Day is a small, registered charity relying on the support of National Book Tokens, contributing publishers, booksellers and private benefactors.